Please note: This FAQ page is a reflection of the 2019 event. Registration for the 2020 Sea Island Half Marathon is not yet available.
Have a question?
We are here to help!  But first, your question may have already been answered! Check our FAQs below for answers to common topics.
Not sure how to use the FAQ page?
There are several ways you can find the answer to your question!
Use the "Enter your keyword here" search bar at the beginning of each section. Begin typing keywords (ex: change distance, packet pick-up, pacer) and articles will automatically populate for you to click through.
Use the sections – Pre-Race Questions, Race Day Questions, Post-Race Questions – to find your answer. Once you find the question you are looking for, click the question to open the answer!
RACE FAQs
When is race day?
Race day is Saturday, November 16, 2019.
When is the race start time?
The half marathon will begin at 7:15 a.m. and the 10k will begin at 7:30 a.m.
How do I check if I'm registered?
Please email
info@resortraces.com
and tell us your first name, last name and email address you registered with. If you think you already signed up, please check with us before registering again!
How can I change my race distance?
To change your distance, please fill out
this form
. We do not charge an administrative fee to change your distance. There is no charge to go down in distance, but if you choose a longer distance, you will need to pay the difference between the distances.
What is your refund policy?
The Sea Island Half Marathon reserves the right to reject any entry. Also, we adhere to the standard running industry policy.
All entry fees are non-refundable and non-transferable.
This is noted on our registration application and when you register for our events you must agree to this policy. You may not give or sell your number to another individual – if you do, this will result in your disqualification as well as the runner who uses your race number. This policy stays in effect whether you are injured, have an unexpected business or family emergency, pregnancy, etc. There are no exceptions!
Can I transfer my registration to another person?
Sorry, we do not allow transfers from person to person.
When and where is packet pick-up?
Packet pick-up is taking place at the below times and locations. Please note that only runners staying at The Inn, The Cloister or Sea Island Members can utilize the packet pick-up at The Cloister.
Date/Time: Friday, November 15 from 2:30 – 4:30 p.m. (Available to all runners)
Location: The Breakfast Room at The Inn: 100 Salt Marsh Dr, St Simons, GA 31522
Date/Time: Friday, November 15 from 5:30 – 7:30 p.m. (Available only to runners staying at The Inn, The Cloister or Sea Island Members)
Location: The Georgian Library Room at The Cloister: 100 Cloister Dr, Sea Island, GA 31561
Date/Time: Saturday, November 16 from 5:30 – 6:30 a.m.
Location: Near the start/finish line at The Lodge: 100 Retreat Ave, St Simons, GA 31522
What do I need to bring to packet pick-up?
All you will need is a photo ID.
Can someone else pick up my packet?
Yes, you can have someone else pick up your packet if you are unable to make it to packet pick-up.  They will need a picture of your photo ID in order to claim your packet.
Can I register at packet pick-up?
Yes! Please stop by the registration booth or customer service table and we will help you register.
Where can I view a map of the course?
The 2019 course map can be viewed
here
!
Is this course a Boston qualifier?
No, this course is not a Boston Qualifier.
Will there be pacers?
Yes! Pacers will be needed in the following groups:
1:45, 2:00, 2:15, 2:30, 2:45, 3:00, 3:15, 3:30
If interested, please email info@resortraces.com!
Is there a time limit?
Yes, participants must complete the race by 10:30 a.m. This is a runner pace of 15 minutes per mile.
Are strollers allowed on the course?
Sorry, we do not allow strollers of any type for either distance. 
What kind of hydration/food will be available on the course?
We always provide water at each of our aid stations. There is also usually sports drink and some aid stations may also provide an energy gel or Gu. A more detailed overview of course hydration/food will be available closer to race day.
Where should I park on race morning?
There will be no parking available at the start line near The Lodge! Runners must take the shuttle from either The Cloister or The Inn to the start line.
There will be plenty of parking at The Inn for non-resort guests to park before taking the shuttle to the start line. Shuttle details are listed below:
Shuttles will run to the start line from both The Inn and The Cloister from 4:45 a.m. until 6:30 a.m. All runners must shuttle to the start line at The Lodge. There will be no parking at The Lodge.
What roads will be closed on race day?
The following roads will be affected for portions of the race between 7:30 a.m. – 9:45 a.m.:
Postell Drive
Broadway Street
Old Demere Road
Police officers will be on the course to meter traffic through these areas to ensure runner safety.
What is your weather policy?
Races are held, rain or shine, unless we determine that conditions are too dangerous. This will be based on a prudent decision made on race weekend or race day by Race Officials and local law enforcement officials.
If the race is cancelled due to inclement weather there will be neither refunds nor transfers.
This position is consistent with USA Track & Field recommendations and with the protocol of sharing the risks associated with the sport of running. In the event of inclement weather or unforeseen circumstances, Capstone Event Group reserves the right to alter, cancel or eliminate any/all portions of the race.
Will a gear check be offered?
Gear check will be available from 5:15 a.m. – 6:30 a.m. at the Customer Service table near the start line at The Lodge. Gear can be picked up following the race at The Beach Club.
Is there race day packet pick-up?
Yes, but runners are strongly encouraged to pick up their packets on Friday, November 15.  Race day packet pick-up will take place from 5:30 – 6:30 a.m. on Saturday, November 16.
If you cannot make it to packet pick-up, a friend or family member may pick up your packet for you with a copy of your photo ID.
Where can I find my results?
All results will be posted on our website following the race.
What are the age groups for age group awards?
Age groups are as follows: 19 & under; 20-24; 25-29; 30-34; 35-39; 40-44; 45-49; 50-54; 55-59; 60-64; 65-69; 70-up.
Will there be medals for participants?
Yes, all finishers will receive this beautiful finisher medal!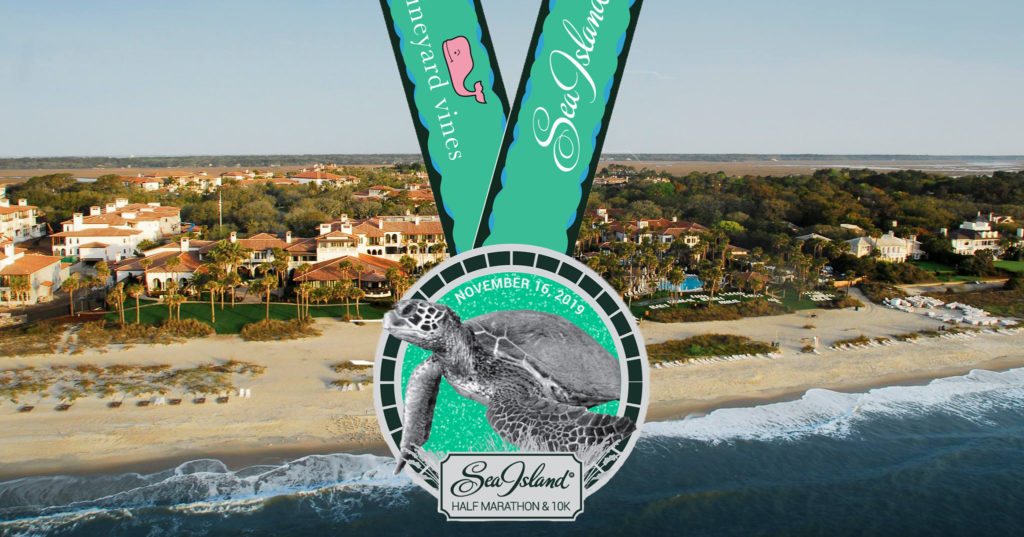 Will there be shirts for participants?
Yes! All finishers will receive this performance tee!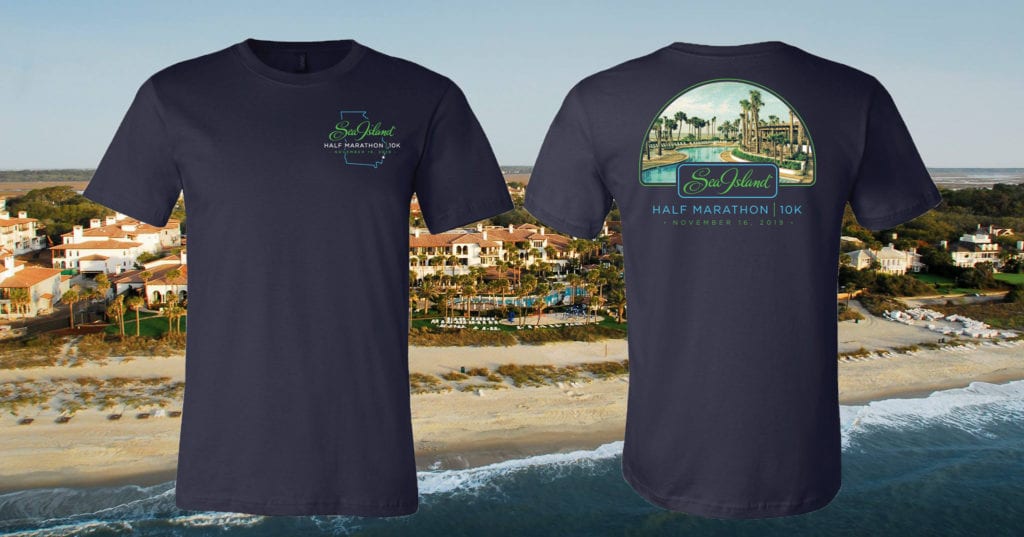 I wasn't present for the awards ceremony. Can you mail me my award?
Sorry, we cannot mail awards.
Is there a lost and found?
We encourage anyone who finds something on the course or in Runners' Village to bring lost items to the Customer Service Tent. If you lose something during the race, please check with the Customer Service Tent for the item. You can also email info@resortraces.com if you realize you lost something after the race.