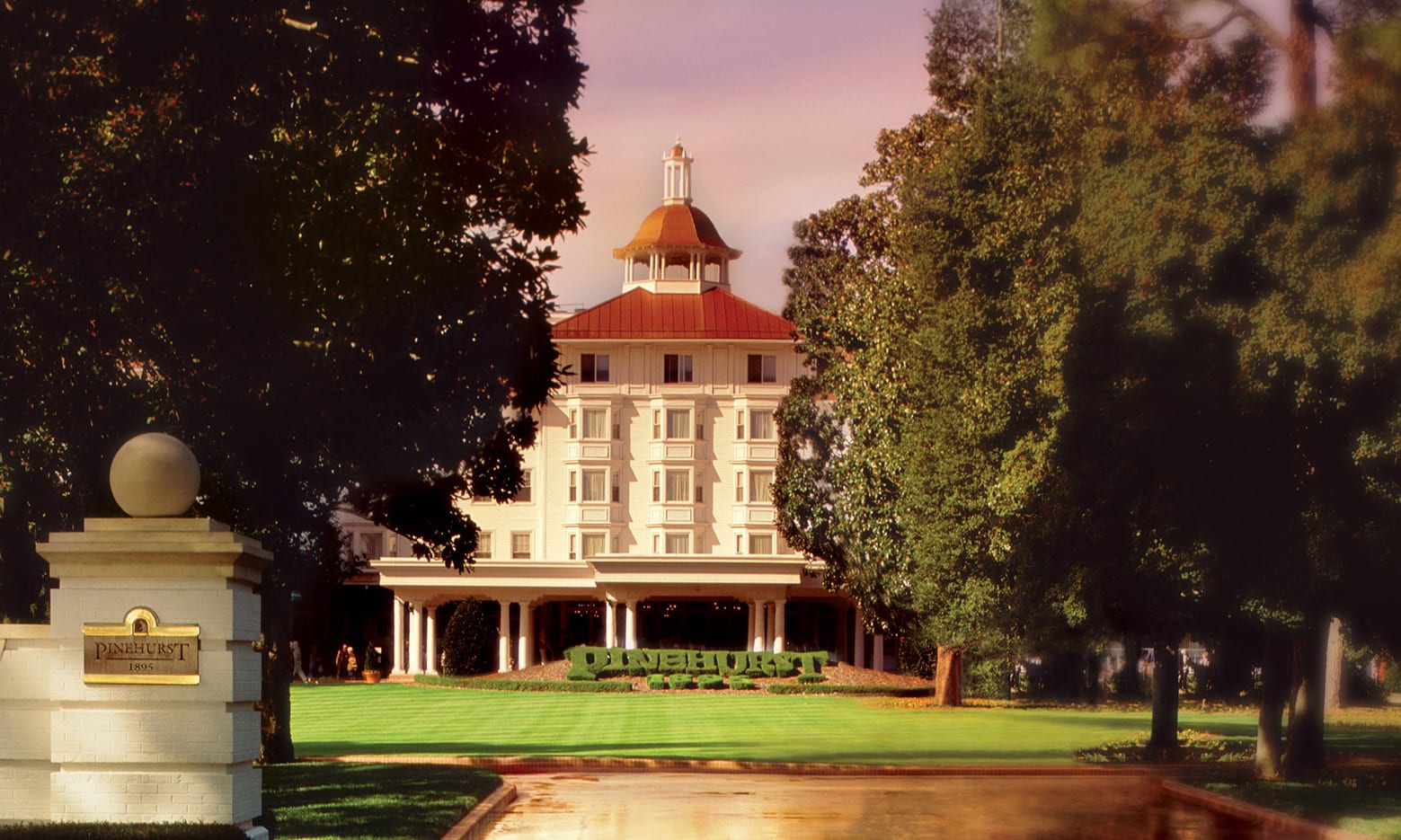 Pinehurst Resort is conveniently located just over an hour southwest of Raleigh and two hours east of Charlotte in Pinehurst, North Carolina.
Resort Address: 80 Carolina Vista Drive, Pinehurst, NC, 28374
The most convenient way to fly into Pinehurst is via Raleigh-Durham International (RDU). The resort offers Airport Shuttle Service to RDU available during peak hours.
Top of the hour Pick Up at RDU:
7 a.m. to 9 p.m. – $94 per person one-way
Top of the hour Departure from The Carolina Hotel:
5 a.m. to 7 p.m. – $94 per person one-way
Airport Shuttle Policy:
Top-of-the-hour Airport Shuttle Service operates on a reservation basis only during peak hours indicated. Private airport transportation is available during off-peak hours. Please provide 48 hours advance notice to guarantee a reservation. Full rate applies to day-of-travel cancellations or no-shows.
If your arrival is delayed, please call 910.235.8465 to check availability of service for your new arrival time. If we do not have service available to coincide with your new arrival time, at your request, we will provide names and phone numbers of other services that provide transportation from RDU to Pinehurst Resort. All charges associated with delays, including but not limited to cancellations, no shows, airport shuttle changes or alternate transportation service, are at the expense of the traveler.
Private Airport Transportation
Private Airport Transportation is available from Raleigh Durham (RDU), Fayetteville (FAY) or Greensboro (GSO) airports at the following rates:
1-2 passengers, $275*  |  3-5 passengers, $495*  |  Up to 8 passengers, $735*  |  For groups larger than 8, please call for a quote.
*Plus 18% gratuity.
Private Shuttle Policy: Please provide 24 hours advance notice for cancellations. Day-of-travel cancellations including no shows incur full rate charge. Should your arrival be delayed, please notify us immediately at 910-235-8465. If you are delayed more than one hour beyond your reserved pick up time, a wait time fee of $50 per hour will apply.
From Moore County Airport (SOP)
Private planes often route through Moore County Airport, just a short 15-minute drive from the resort. Shuttle service from SOP is available at the following rates:
SHARED SERVICE
1-2 passengers is $38 per person; Additional passengers: $19 per person (maximum 8 passengers)
PRIVATE SERVICE
1-2 passengers is $80* per person; Up to 8 passengers is $160*
*Plus 18% gratuity
Reservations for all airport services require 48 hours advance notice to ensure availability.
Learn more about other available services, or call (855) 235-8507 for assistance in arranging travel plans!