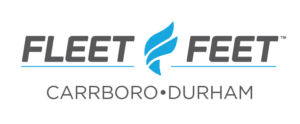 Fleet Feet 4 Mile Run
Not ready for the Tar Heel 10 Miler or the  Double Down Challenge? Try the Fleet Feet Four Mile Run! Overall this course is friendlier (no Laurel Hill) and more scenic, and more popular than ever!
Start Time: 7:15am
Start Line: 199 South Rd Dr, Chapel Hill, NC 27514, near the UNC Bell Tower
Finish Line: Stadium Drive near Kenan Stadium Gate 2
Route: The 4 Mile Run course starts at the Bell Tower then takes South Rd westbound to Columbia Street and up to W. Cameron Avenue. After a beautiful run down tree-lined W. Cameron Ave, runners make their way to W. Franklin Street via Graham Street where they can take in the vibe and scenery of downtown Chapel Hill. Runners head down E. Cameron Avenue via Columbia Street to run past the Old Well. Next up is a loop through the beautiful Gimghoul neighborhood then, finally, an exhilarating downhill dash on Ridge Rd to the finish line alongside Kenan Stadium.
Timing: All runners will be provided with race bibs with timing chips attached to the back. It is very important that the race number be worn on the front of your shirt to ensure that it works properly. In accordance with USATF Rules, overall awards will be determined by gun time while age group awards will be determined by your chip time.
Minimum Pace: Participants in all events must maintain a minimum pace of 15:00 min/mile to participate in this event enabling police to reopen the major roads used. Race officials follow the back of the pack to enforce this rule. In the event that you are unable to maintain the minimum pace, you will asked to use sidewalks and either complete the remainder of the course unassisted by police, or use the cue sheet provided by race officials that details the shortest walk back to the race site.
Course Entertainment: Music and performance groups from our local community will be along the course to keep you moving!
Pace Groups: There won't be pacers / pace groups for the Fleet Feet 4 Mile Run.
Aid Stations: The Fleet Feet 4 Mile Run has 2 aid stations serving Diamond Springs water and sports drink. Each aid station will have 4 portable toilets available. Aid stations will be available at: Mile 1.5 and Mile 2.25.
Porta-Potties:  There will be porta-Potties at every Aid-Station and at the start and finish line.
Support: There will be medical, police and EMS personnel throughout the course, as well as dozens of course volunteers keeping our participants and spectators safe!