Physical Runner Bib Delivery & Pick-Up
All bibs will be delivered by April 24 to participants that register before April 9 to the mailing address that was provided during registration. ONLY bibs will be delivered before race day. All participant swag will be picked up at the finish line!
All runners who sign up for the physical event after April 8 will need to pick up their bibs at bib pick-up during their 30-minute time slot.
Pick-Up Details:
Date: Friday, April 30
Location: Fleet Feet (7931 N Kings Hwy #120, Myrtle Beach, SC 29572).
Time: 9 AM – 4 PM (during selected time slot)
There will be no race morning bib pick-up.
Please make sure you come to the bib pick-up during your selected time slot. ONLY runners that need to get their race bib or change their distance will need to attend the Bib Pick-Up during a reserved time slot! Click here to reserve your Bib Pick-Up Time Slot.
The Importance of Your Race Bib
This year you'll need your bib for more than your official race time or that cute Instagram selfie. Your bib is going to be a guide to your start and finish line experience. Your bib will indicate your Official Start Line Corral, which is crucial in ensuring you stay socially distanced at the start line and throughout the course. After you cross the finish line you'll need your bib to get the correct Participant Shirt Size, the Virtual 10k Medal (if applicable) and the Bless Your Heart Bling (if applicable). Check out a sample bib below:
Bib colors: Marathon: BLUE | Half Marathon: RED | 5k: YELLOW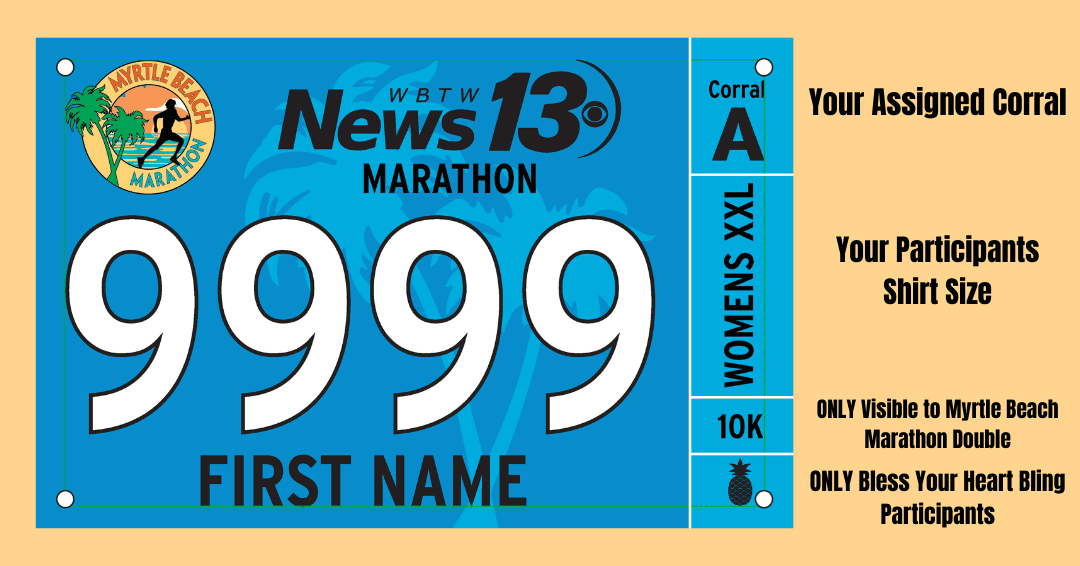 Virtual Race Participant Download Bibs!
** Please note: This information is a reflection of the 2020 event. More information about the 2021 event will appear closer to race day. Stay tuned for any updates.
WHEN
Friday, March 6, 2020
10 AM – 8 PM
WHERE
Dave & Buster's
1322 Celebrity Circle in Broadway at the Beach
The Myrtle Beach Marathon Expo Meets Dave and Buster's!