Route: Runners will join the Half Marathon runners for a loop of the downtown district then over to Trinity Park neighborhood where they split from the Half Marathon and take Buchanan Blvd back to Main Street and then run back downtown to the finish line at the American Tobacco Campus!
*Course is subject to change closer to race day.*
Parking: On race morning, runners can utilize parking at the American Tobacco Campus North Parking Deck (305 W Pettigrew St, Durham, NC 27701) and South Parking Deck (705 Willard St, Durham, NC 27701).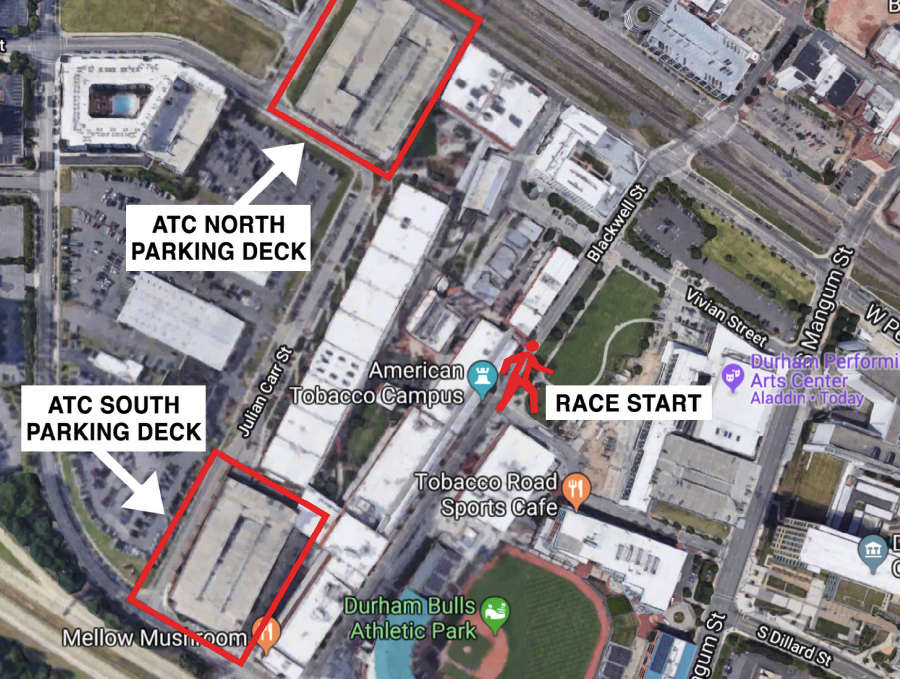 Timing: All runners will be provided with race bibs with timing chips attached to the back. It is very important that the race number be worn on the front of your shirt to ensure that it works properly. 
Minimum Pace: Participants must maintain a minimum pace of 15:00/mile (gun time) to participate in this event. This rule in place to enable Durham Police to reopen the major roads used for race course. The 5 Mile Run Finish Line will close promptly at 9:15 am. If you are not able to complete the race by 9:15 am, you may either walk back on the sidewalk. It is suggested that you train at a minimum of 14-minute per mile pace. Thank you for your understanding!
Support: There will be medical, police and EMS personnel throughout the course, as well as dozens of course volunteers keeping our participants and spectators safe!
Restrictions: For safety purposes and logistics management, baby strollers, baby carriers, and pets are not allowed in the Half Marathon or 5 Mile Run. No exceptions will be made. Littering on the course will result in disqualification.
Swag: All 5 Mile Run participants will receive a participant shirt in the size they designated on their registration form and a finisher medal.