Participants Coming from Raleigh, Cary, Durham: If you are planning to get to the race utilizing I-40, use exit 266: NC 86, to Chapel Hill. You will not be able to take exit 273A onto Highway 54 Chapel Hill to access the race due road closures. Plan to leave earlier to give yourself more time to arrive by 6:00 AM. 
For additional traffic information, click here.
IMPORTANT INFORMATION
REGISTRATION DEADLINE: The last day to register is April 21 at 7 PM! 
CHANGE DISTANCE:
Runners with bib mailing had until March 24 at 12 PM to change distance in order for the bib they received in the mail be for the correct distance.
After this deadline, you will still be able to use this form to change distance, but you MUST attend Packet Pick-Up to receive your new bib.
Runners WITHOUT bib mailing can change their distance until 7:00PM on Friday, April 21 using this form. If you change your distance after April 13,  you will need to go to Customer Service at Packet Pick-Up to receive the correct bib.
DEFERRALS: The deferral deadline was Wednesday, April 12, 2023 at 11:59 PM. No exceptions will be made.
RACE START TIMES
Fleet Feet 4-Mile Run: 7:15 AM
14 Mile Double Down Challenge: 7:15 AM
TarHeel 10-Miler: 7:45 AM
START / FINISH LINE LOCATIONS
PACKET PICK-UP
Day 1: 
Day 2: 
Parking: Parking is available on a first come, first served basis throughout Southern Village. Parking options include street parking, free parking lots, a pay to park lot, and a parking garage.
Click here to view a parking map! 
Please note: There will be NO race day packet pick-up! You MUST attend the packet pick-up.
RUNNERS WITH BIB MAILING
BIB MAILING:
Bibs have been mailed, and all bib mailers should receive their bib by April 19.
Bib Mailers do not need to attend Packet Pick-Up unless:
You changed your distance after March 24. You will need to attend Packet Pick-Up to get a bib for the correct distance.
Your bib did not arrive by April 19. We will need to assign you a new bib!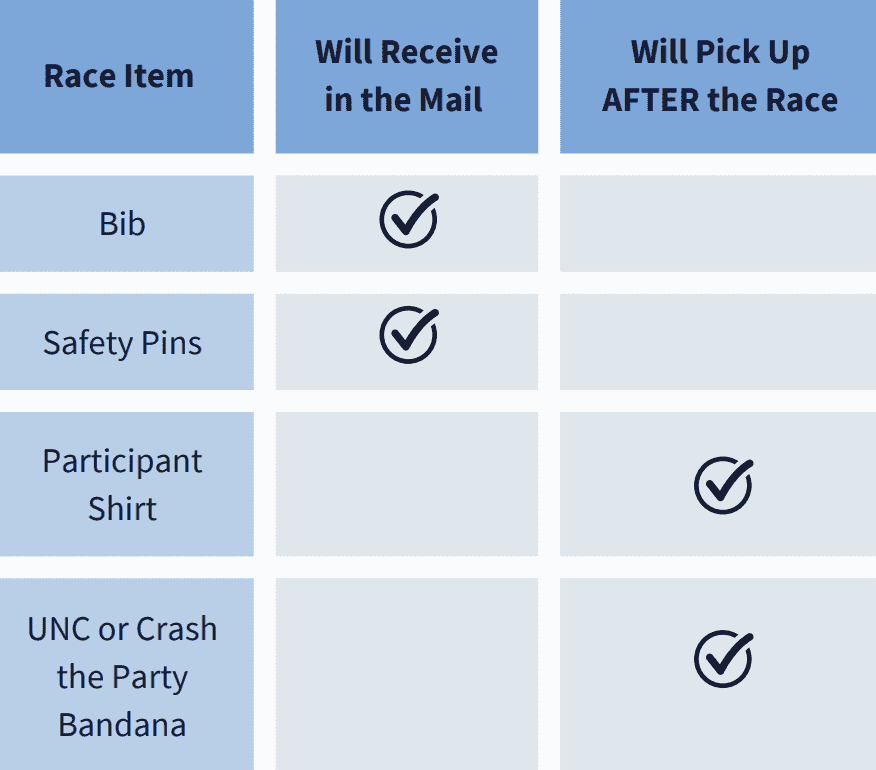 RACE DAY MAPS
START AND FINISH ZONE MAP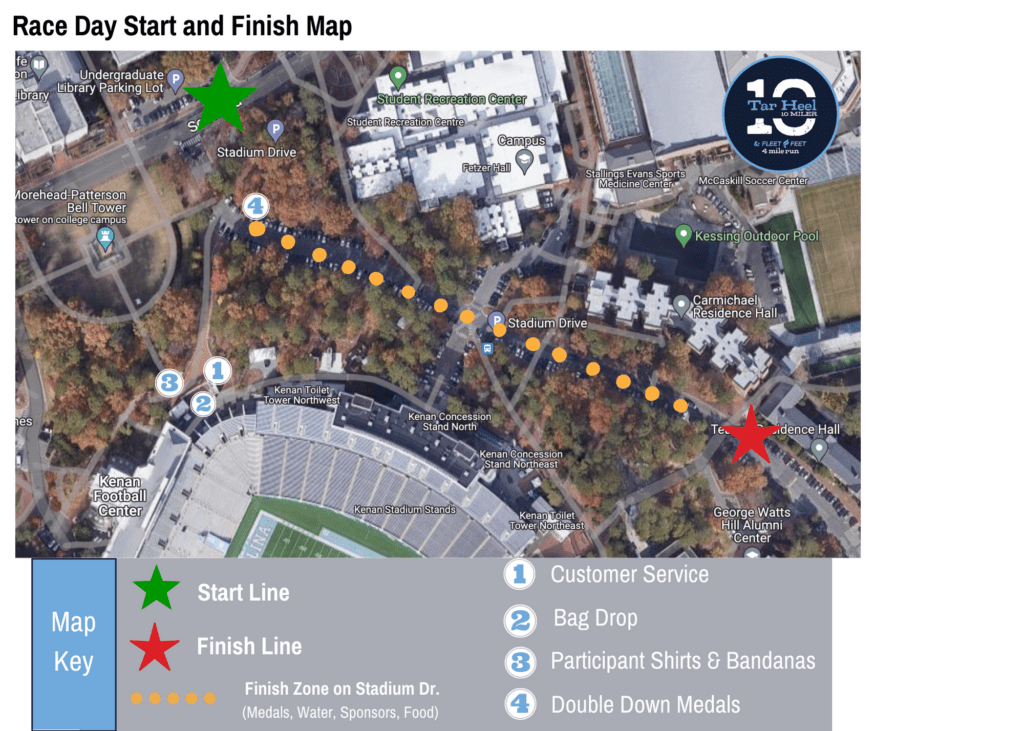 Click image for a larger view of the map.
Customer Service, Bag Drop, and Participant Shirts (for bib mailers) will be available at Gate 3 of Kenan Stadium.
Restrooms will be available inside Kenan Stadium on the first and second floors!
Double Down Medals will be available for pick-up in the Finish Zone on Stadium Drive after the race.
PARKING and ROAD CLOSURES/TRAFFIC DELAYS
Please review our detailed Parking Page to find suggested on-campus & downtown parking.
Important Parking Information:

Runners for ALL distances must arrive by 6:00 AM and be parked by 6:30 AM

to avoid the UNC Hospital shift change traffic. Keep in mind that the 4 Miler and Double Down Challenge start at 7:15 AM, and the 10 Miler starts at 7:45 AM.

To minimize congestion on major roads, follow our directions (on pages 2 & 3 of the 

Official Parking Plan

) based on your home or hotel.

Please follow the instructions of parking professionals and volunteers! As parking decks/lots fill up, they will direct you to available parking.

Please carpool and/or use ride-share options!
Uber/Lyft/Drop-off Location
Runners for ALL distances must arrive by 6:00 AM and be dropped off by 6:30 AM

to avoid the UNC Hospital shift change traffic.

BEST Drop-Off Location: Intersection of Franklin Street and South Columbia Street
Alternate Drop-off Location: Manning Drive between Paul Hardin Drive and Ridge Road
For a detailed map of recommended drop-off locations, see page 6 of the parking plan.
Road Closures:
Raleigh Rd (Rt 54) will be closed from the intersection of 15/501 (Fordham Blvd) to Country Club Rd starting at 5:00 AM on race morning.
Rams Head Parking Deck Closed to Runners. Please do not attempt to park in the Rams Head parking deck located on Ridge Rd next to Kenan Stadium as this will be reserved for other campus visitors. Race officials will be monitoring the entrance to this parking deck.
SR 2048 (South Road/Raleigh Road) from Stadium Drive to the Anderson Stadium parking lot
SR 1010 (Franklin Street) from S. Graham Street to Park Place
NC 86 (Columbia Street) from South Road to Rosemary Street
SR 2008 (Carmichael Street) from US 15-50 I ramp to Laurel Hill Road
US 15-501 Ramps to Raleigh Road
For more information about traffic delays and road closures, please click here.
SPECTATOR LOCATIONS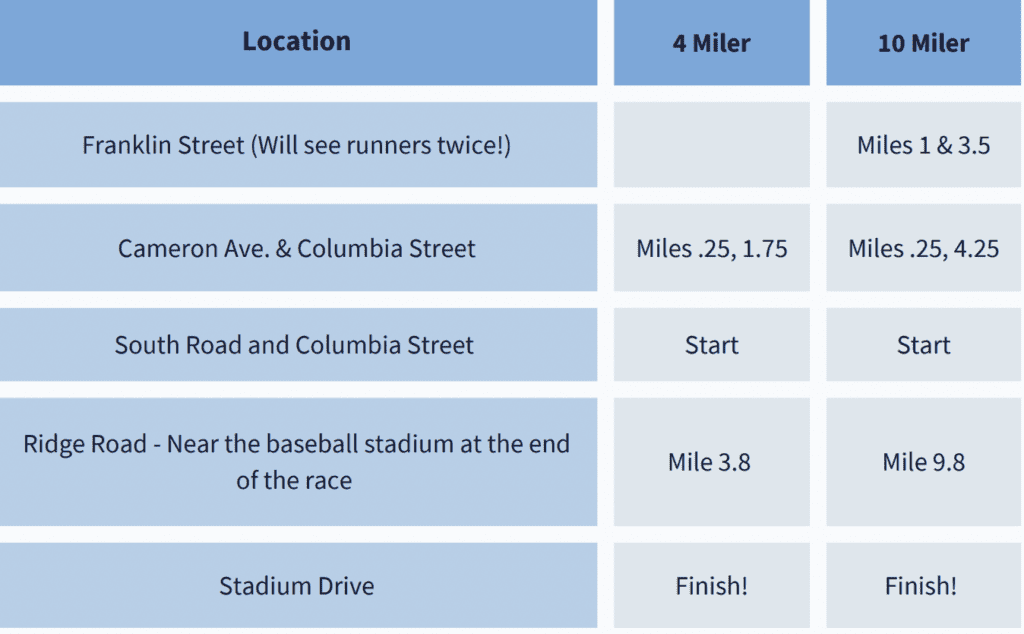 PARTICIPANT DETAILS
 The 2023 Athlete Guide Includes details on:
Packet Pick-Up

Race Day Parking 

Race Day Timeline

Course Information

And More