The 2023 Myrtle Beach Marathon : Virtual 10k Race
February 17, 2023 – March 3, 2023
Please note the below information is a reflection of last year's race. We hope to have finalized details available soon.
Do you want to cross the finish line without having to travel or wake up early? Or are looking to get in some virtual training before taking on the physical Myrtle Beach Marathon?
The Myrtle Beach Virtual 10k could be the race for you! We're bringing this virtual distance back for a second year for our participants that want to bring the Myrtle-Beach-Style-Fun home.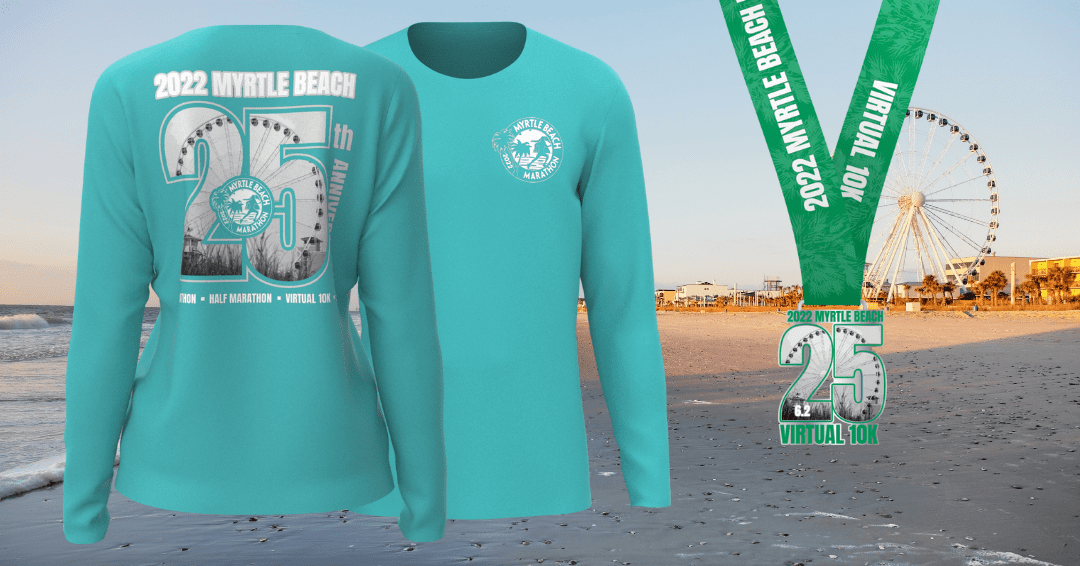 EXCLUSIVE VIRTUAL 10K SWAG
All Virtual Race 10k runners will receive a finisher medal along with the participant shirt. You'll also receive a downloadable race bib to wear during your run! All of your swag will be mailed right to your door after the race.
Do you want to run the Virtual 10k & an in person race? You can add-on the virtual 10k during your registration. If you've already registered, you can add-on the Virtual 10k by completing this form, click here. You will receive ALL your swag at the physical race finish line.
BLESS YOUR HEART BLING
Participants that registered for both the 2022 Charleston Marathon & the Myrtle Beach Marathon by January 14, 2022 will receive the Bless Your Heart Bling. All distances aside from the Family Fun Run and Kids Miles are eligible. The Bless Your Heart Bling will be mailed out to all qualified Virtual 10k participants with the rest of the swag following the in-person race.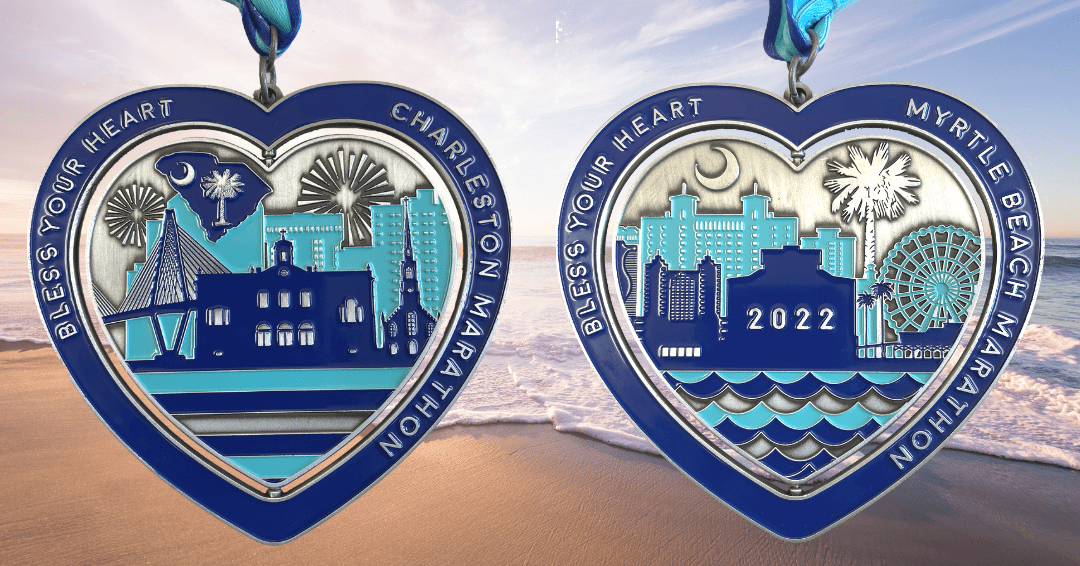 UPLOAD YOUR RESULTS & RACE BIB
Each virtual race participant will be able to upload their results anytime between February 18 to March 4 at 11:59 PM. Before you take off on your run, we'll send over your downloadable race bib that you can customize, print and wear during your run.
Are you looking to challenge yourself a bit? Need some extra training?
Whatever your reason is we definitely recommend being a part of the first-ever Myrtle Beach Virtual 10k race and participate in the Myrtle Beach Marathon Double! When you run both the physical race and the virtual race you'll not only be a part of a historic moment, but you'll also receive two bibs, your physical race medal, shirt, tank and the Virtual 10k medal at the physical race finish line.