RACE DEADLINES
DEFERRALS: The deferral deadline was Wednesday, February 22, 2022 AT 11:59 PM. No exceptions will be made.
CHANGE DISTANCE: Runners with bib mailing have until February 10 at 11:59 PM to change distance. After this deadline, you will still be able to use the change distance form, but you MUST attend packet pick-up to receive your new bib.
Runners WITHOUT bib mailing have until 24 hours before the event to change distance. After this deadline you will need to make your changes during the packet pick-up at the customer service desk.
Runners who want to change to the 5k ON or AFTER February 24 will NOT receive a medal at the finish line. Participant shirt and finisher gift will still be available.
Click here to change your distance!
REGISTRATION DEADLINE: The last day to register is Friday, March 3 at 7 PM. You will still need to attend Packet Pick-Up to get your bib!
RACE START TIMES
Friday – March 3, 2023:
Saturday – March 4, 2023
Wheelchair & Handcycle: 6:55 AM
Marathon & Half Marathon: 7:00 AM
5k:

8:00 AM
START & FINISH LOCATIONS
Friday – March 3, 2023:
Family Fun Run: The Hangout at Broadway at the Beach (Start and Finish)
Saturday –  March 4, 2023:
BIB MAILING
BIB MAILING:
Bibs will be delivered by March 1 to participants that purchased bib mailing before February 10. Check out the chart below to see how you'll receive each race item!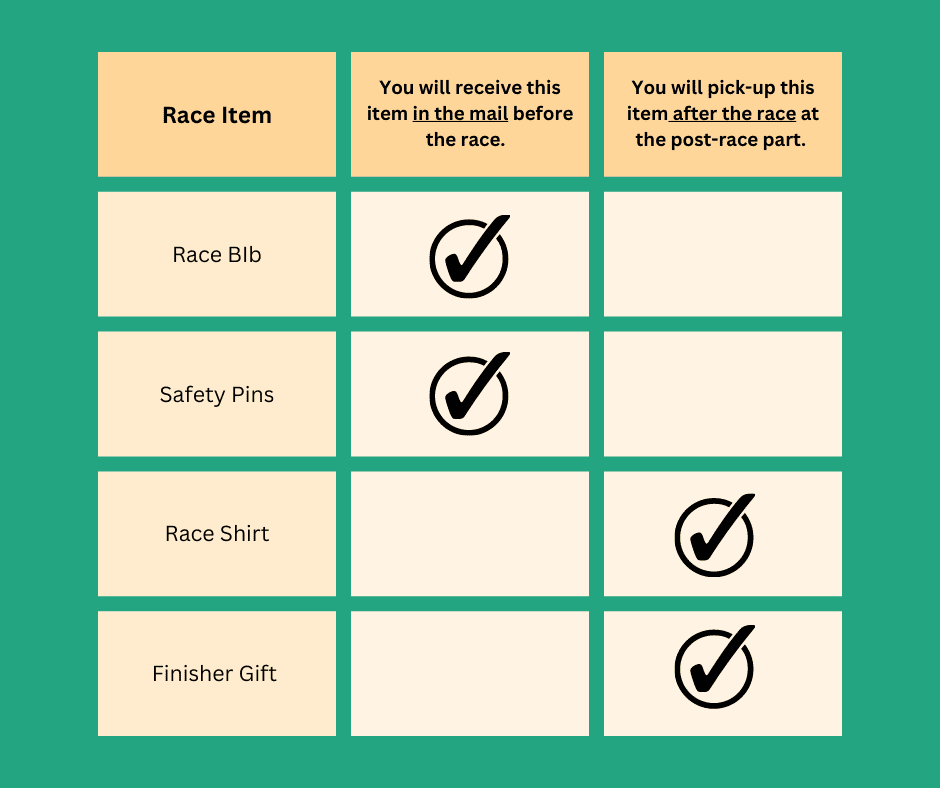 Bib Mailers do not need to attend Packet Pick-Up UNLESS:
You did not receive your bib in the mail by March 1. You will need to be issued a bib for the race.
You changed your distance after February 10. The bib you received will NOT be for the correct distance.
PACKET PICK-UP
We will use a reservation system for Packet Pick-Up to allow us to serve you more efficiently. Please come during your reserved slot!
DAY 1:
DAY 2:
Please note: There will be NO race day packet pick-up! You MUST attend the packet pick-up.
Here's What You'll Receive at Packet Pick-Up
Race Bib and Safety Pins

┃

On race day, please wear your bib on the front of your shirt with the numbers facing out.

Please do not bend or fold the timing chip.

Participant Shirt
PARKING & ROAD CLOSURES
Parking: 
Broadway at the Beach | 1352 Celebrity Circle, Myrtle Beach 29577
Plenty of parking is available at Broadway at the Beach.

Please plan to arrive 

at least 45 minutes prior to the start of the race to allow yourself time to go through the security checkpoint and walk to the 15 minute walk start line.
All runners, 5k included, should plan to be parked no later than 6:45 AM.
Road Closures:
Please plan to enter Broadway at the Beach using Highway 17 Bypass (Mark Garner Highway) or 29th Avenue.

Additional road closures can be found 

here

.
Security Checkpoint:
All runners (no spectators in the start cute) will need to pass through the security checkpoint prior to entering the start line chute. Bags will be searched.

5k participants will not be allowed in the start line chute until after the start of the full and half (after 7am).
PARKING & START AREA MAP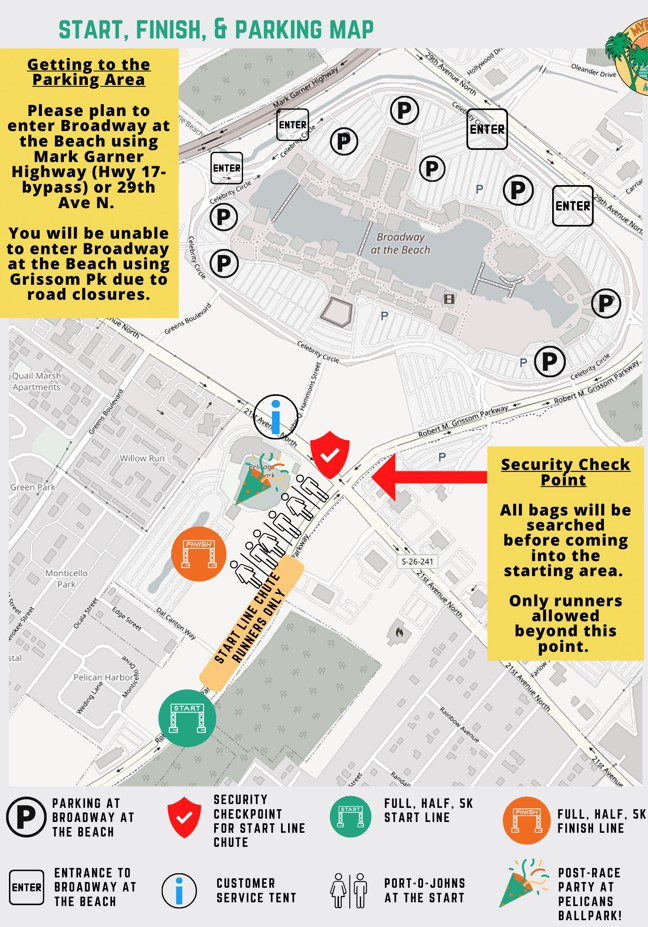 It is approximately a 15 minute walk from the parking area at Broadway at the Beach to the start line. Please plan to leave yourself ample time on race morning!
ATHLETE GUIDE
Check out this year's Athlete Guide which is home to all the race weekend information you need!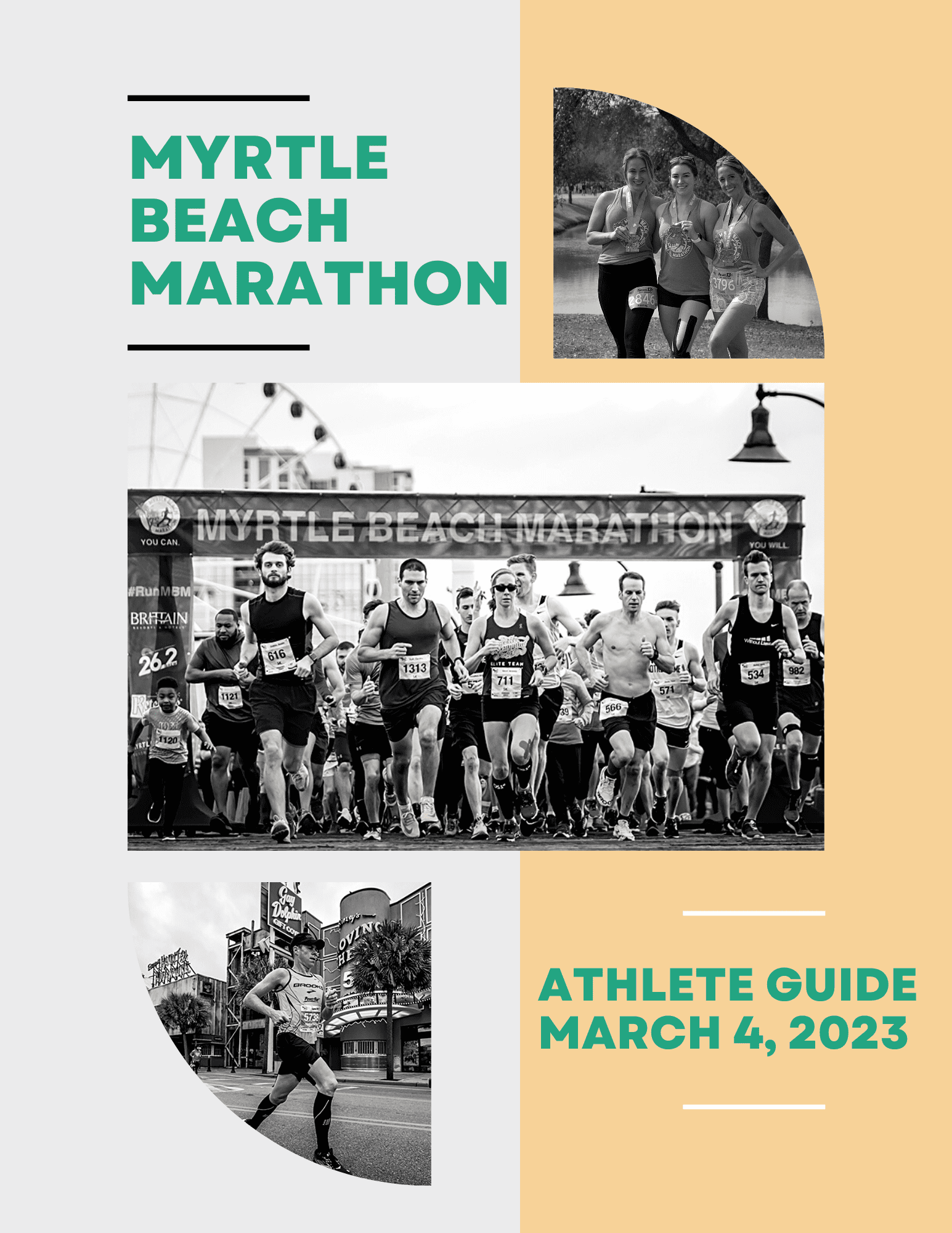 COURSE MAP
To view a larger version of the course map, please click on the frame in the upper right corner.
HYDRATION, MEDICAL & RESTROOMS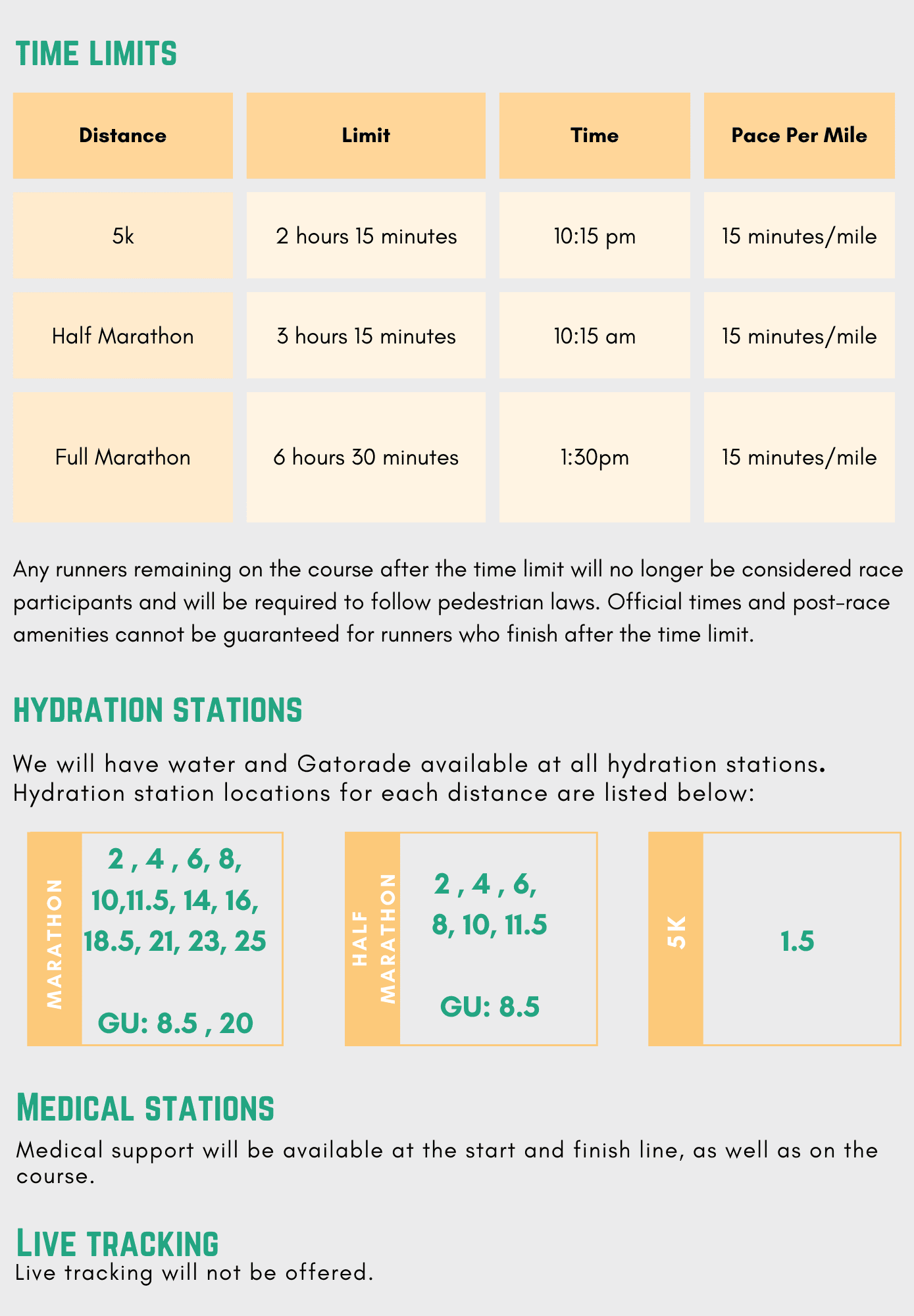 SPECTATOR INFORMATION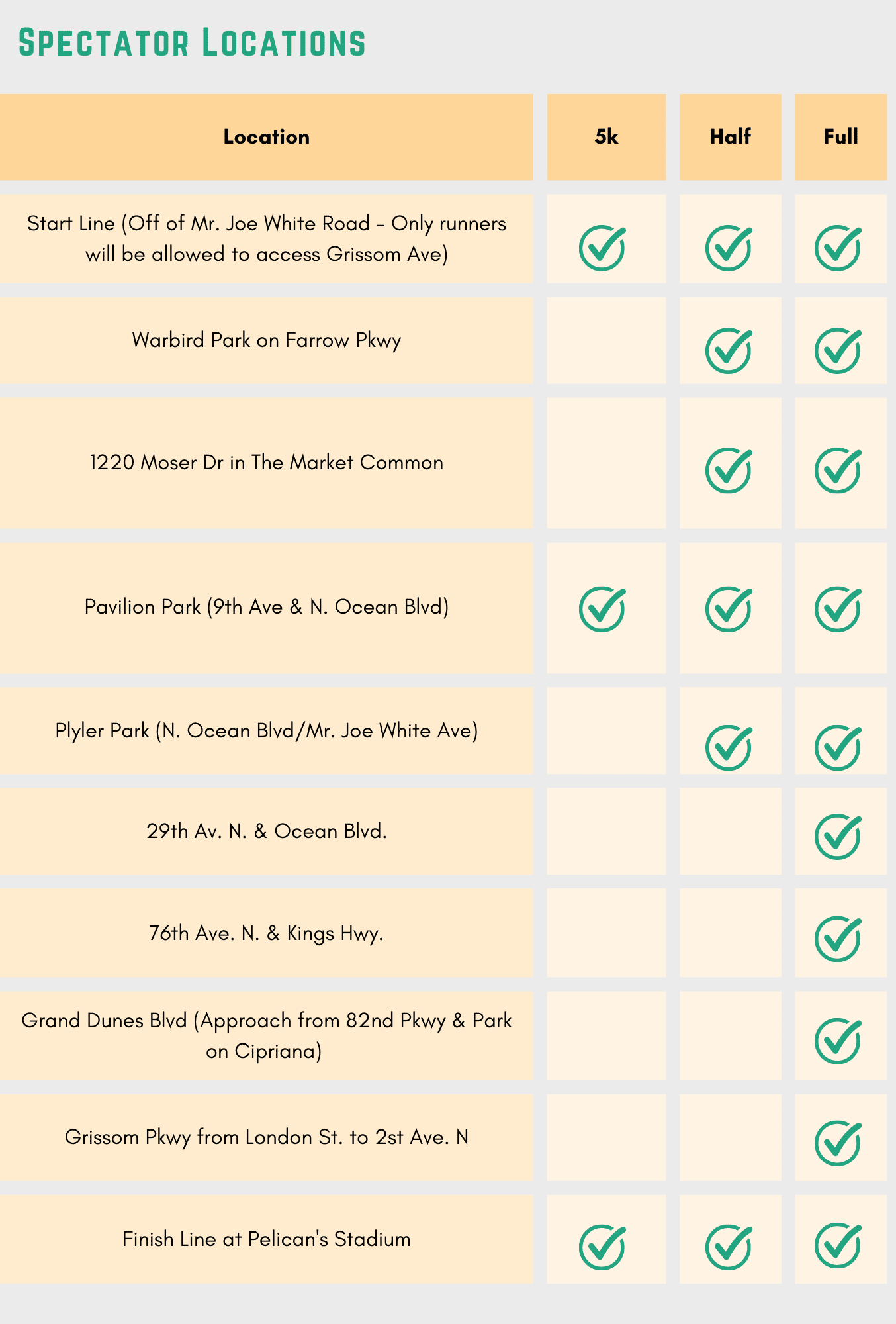 POST-RACE PARTY
All of the Myrtle-Beach-Style-Fun will be taking place after the race at the field at Pelican's Ballpark.
Check out these Post-Race highlights:
Grab your finisher tank and any earned extra medals/awards!
Replenish those carbs with a slice of Mellow Mushroom Pizza and an ice cold beer on us (Beer only available for those age 21+)!
Indulge in a Post-Race Tropical Smoothie (available for purchase)!
Enjoy a refreshing Freshly Squeezed Lemonade (available for purchase)!
Start your recovery process with Localized Cyro and Compression Services available for purchase from Athletic Upgrade!
Watch the live stream of your fellow finishers on the big screen!
Sit in the stands with your friends and family as you share about your accomplishment!
The post-race party energy will be fueled by the DJ's from Island Sound!
AFTER RACE & AWARDS
RESULTS: The results tent is back for 2023! We will also have results on our RESULTS & PHOTOS page.
AWARDS: Overall Awards will be presented to the top 3 Male and Female finishers in the Marathon, Half Marathon & 5K. ONLY overall winners will be announced on stage.
9:15 AM – 5k; 10:15 AM – Half Marathon; 11:15 AM – Marathon
All age group awards are based on chip time. Awards will be given to the top 3 male and female finishers listed below in each age group for the Marathon, Half Marathon & 5k. Age group awards will be picked up at the results tent following the announcement of the overall awards. There will not be an awards ceremony for age group awards.
Age Groups: 19 and under, 20-24, 25-29, 30-34, 35-39, 40-44, 45-49, 50-54, 55-59, 60-64, 65-69, 70-74, 75 & over