IMPORTANT INFORMATION
RULES: Masks and maintaining 6 feet of social distance is required throughout the entire event and to access the start area. Masks can only be removed once a runner has crossed the start line. Runners must hold onto the masks during the run to put them back on after crossing the finish line.
DEFERRALS: The deferral deadline is 7 days out from the event – Saturday, April 24, 2021 AT 11:59 PM.
CHANGE DISTANCE: The last day to change your distance online was Wednesday, March 31 AT 11:59 PM. If you would like to change your distance before the race, please visit the Customer Service table at the Bib Pick-Up on Friday, April 30 between 9 AM & 4 PM. Please secure a 30 minute time slot here.
VIRTUAL 10k REGISTRATION: The last day to register for the virtual 10k or add the 10k onto your registration is April 28 at 11:59 PM! Click here to add the virtual 10k to your registration.
RACE WEEK EMAILS: If you have not received any race week emails please update your preferences here.
RACE START TIMES
WHEELCHAIR & CRANKCHAIR: 6:25 AM
MARATHON: 6:30 AM
HALF MARATHON: ~ 6:46 AM
5K: 7:40 AM
RACE START / FINISH LINE
ALL DISTANCES WILL START & FINISH AT THE SAME LOCATION!
START LINE: On Robert Grissom Parkway just South of the intersection of Grissom Parkway and Monticello Drive
FINISH LINE:Parking lot of TicketReturn.com Field at Pelicans Ballpark
BIB DELIVERY & PICK-UP
All bibs will be delivered by April 24 to participants that register before April 9. ONLY bibs will be delivered before race day. All participant swag will be picked up at the finish line!
All runners who register after April 8, do not receive their race bib or need to change their distance MUST attend the bib pick-up during their 30-minute time slot. Click here to reserve your Bib Pick-Up Time Slot. If you are unable to attend the bib pick-up you can have someone pick-up for you with a picture of your photo ID.
BIB PICK UP DETAILS:
Date: Friday, April 30
Location: Fleet Feet (7931 N Kings Hwy #120, Myrtle Beach, SC 29572).
Time: 9 AM – 4 PM (during selected time slot)
Click here to reserve your Bib Pick-Up Time Slot.
Please note: There will be NO race day packet pick-up! You MUST attend the bib pick-up. If you are unable to attend the pick-up, please plan to have a friend or family member pick up your packet for you with a copy of your photo-ID.
YOUR RACE BIB
Your bib will indicate your Official Start Line Corral, which is crucial in ensuring you stay socially distanced at the start line. After you cross the finish line you'll need your bib to get the correct Participant Shirt Size, the Virtual 10k Medal (if applicable) and the Bless Your Heart Bling (if applicable). Check out a sample bib below:
Bib colors: Marathon: BLUE | Half Marathon: RED | 5k: YELLOW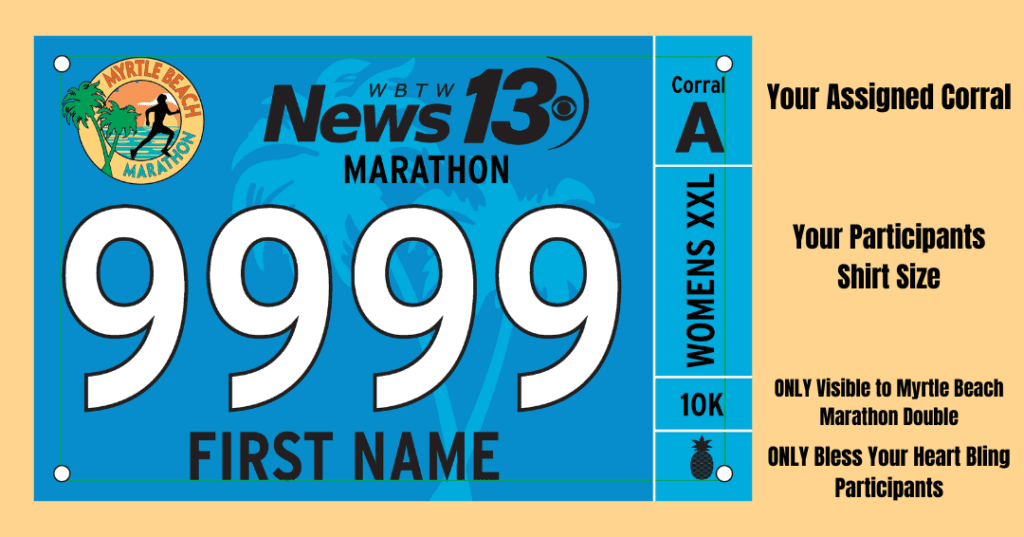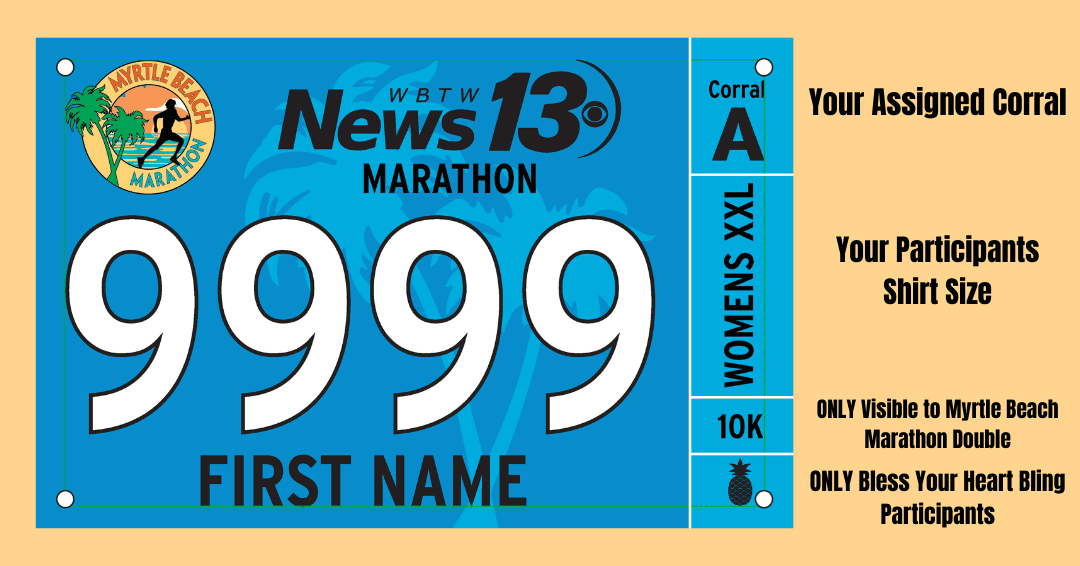 PARTICIPANT DETAILS
 The 2021 Participant Guide includes details on:
Bib Pick-Up

Race Day Parking and Timeline

Course Details

2021 Safety Guidelines
PARKING
Plenty of parking is available on Saturday, May 1 for participants of the Myrtle Beach Marathon, Half Marathon, and 5K at Broadway at the Beach (1325 Celebrity Cir, Myrtle Beach, SC 29577). There will be no shuttles this year.
You can view our road closure on this free downloadable PDF file here.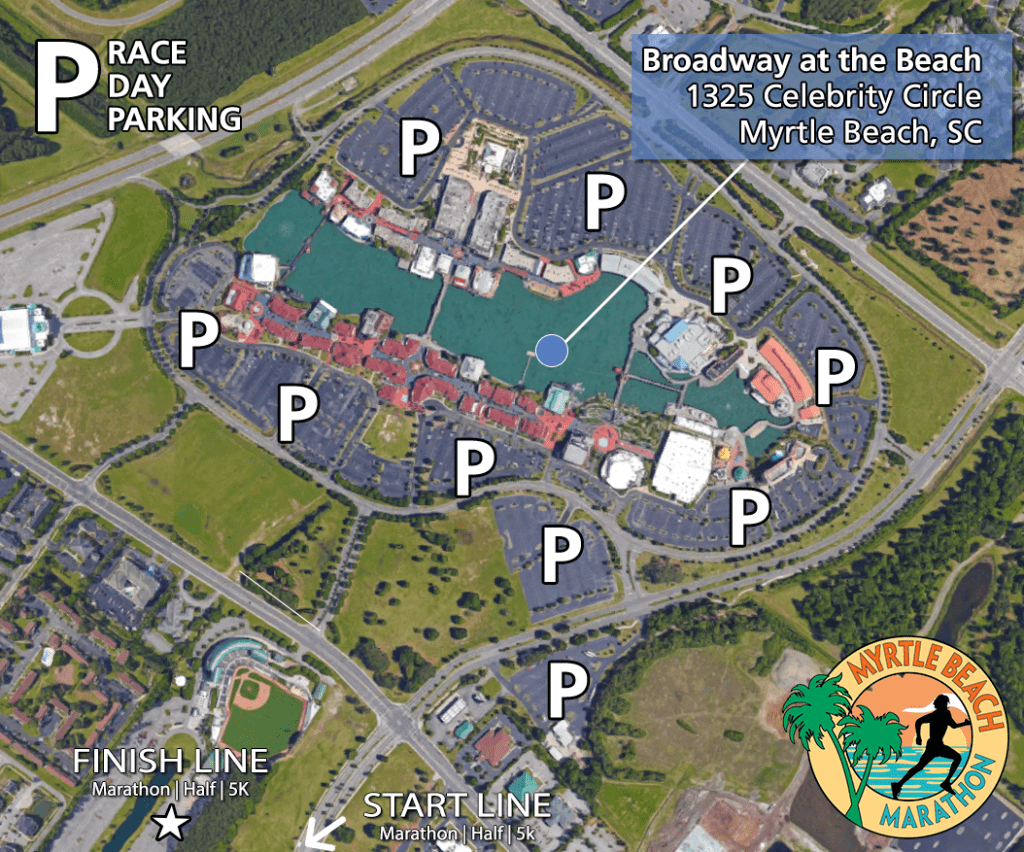 START LINE CORRALS
After parking at Broadway at the Beach, all distances will make their way to the loading area on Robert Grissom Parkway & 21st during their permitted times. Participants are encouraged to enter their corrals at least 30 minutes prior to the start times.
Participants that registered before March 31 at 11:59 PM has been assigned a corral based on pace time. Your race bib will contain the corral number that you are assigned, see bib above. Anyone who registers after this deadline will be assigned a corral based on availability.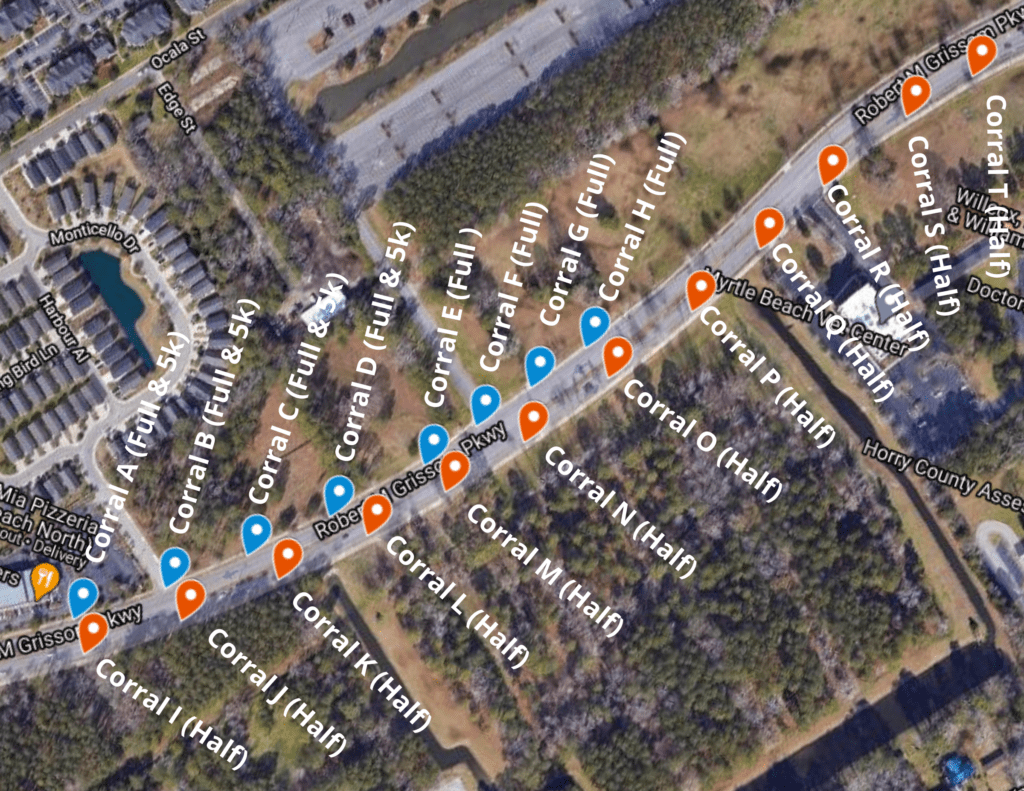 HYDRATION & MEDICAL
Hydration Stations
Plastic water bottles (16 ounces) will be placed on tables at hydration stations along the course. There will be no cups in the 2021 event. We strongly encourage you to bring your own hydration packs. Hydration station locations for each distance are listed below:
Marathon: Miles 2, 4, 6, 8, 10, 11.5, 14, 16, 18.5, 21, 23, 25
Half Marathon:  Miles 2, 4, 6, 8, 10, 11.5
5k: 1.5
All hydration stations will have Port-O-Potty's. Gu will be offered at Mile 10 (Half and Full) and Mile 20 (Full Only).
Amino Vital packets at Mile 6 (Half Marathon and Full), Mile 14 (Full Only), Mile 18.5 (Full Only) and Mile 23 (Full Only)
Medical Stations
Grand Strand medical will be activating on site at the 2021 Myrtle Beach Marathon. There will be medical support at the start and finish line as well as on course at the following miles: 8, 11, 14, 18, & 23
Due to the new date and the warmer weather we are likely to experience in May, we want all of our participants to be aware of the possibility of a heat-related illnesses. Please take some time to view the CDC's guidelines on what to look for and what to do if you experience a heat-related illness. Click here for the guide!
SPECTATOR INFORMATION
Spectators are NOT PERMITTED at the start or finish line for the 2021 race.
AFTER RACE & AWARDS
THERE WILL BE NO FINISH LINE FESTIVAL OR AWARD CEREMONY!
RESULTS: All runners will receive a text message with a link to their individual results! There will be no results tents. We will also have results on our RESULTS & PHOTOS page.
AWARDS: Overall awards will not be handed out at the finish line in 2021. The top three overall awards – male and female – for each distance will be mailed to winners following the event. Awards will be mailed out based on chip time.
Age group awards will not be available at the finish line. Runners who qualify for an age group award can pick up their medal following the race at Black Dog Running Company (1600 Farrow Parkway Unit B-1, Myrtle Beach, SC 29577) – about 15 minutes away from finish line location.
PLEASE NOTE: With the wave start times, runner placements may change as more runners cross the finish line and may delay the award process.
Finisher Food:Finisher food will be provided in a prepackaged paper bag, including a banana, granola bar and bag of pretzels as well as a recovery protein shake packet. We ask all participants to get their food and drink and continue down the finisher chute. This delivery of food is unique to the 2021 race & we look forward to bringing the party back in 2022.
PARTICIPANT SWAG
ALL RACE SWAG WILL BE PICKED UP AT THE FINISH LINE!