IMPORTANT INFORMATION
Masks and maintaining 6 feet of social distance is strongly encouraged throughout the entire event.
DEFERRALS: The deferral deadline was Friday, February 11, 2022 AT 12 PM. No exceptions will be made.
CHANGE DISTANCE: Runners with bib mailing have until February 11 at 12 PM to change distance. After this deadline, you will still be able to use this form to change distance, but you MUST attend packet pick-up to receive your new bib. Runners WITHOUT bib mailing have until 24 hours before the event to change distance. After this deadline you will need to make your changes during the packet pick-up at the customer service desk. Click here to change your distance.  
REGISTRATION DEADLINE: The last day to register is March 4 at 7 PM! 
RACE START TIMES
WHEELCHAIR & CRANKCHAIR: 6:55 AM
MARATHON & HALF MARATHON: 7:00 AM
5K: 8:00 AM
FAMILY FUN RUN: 1:00 PM
ALL DISTANCES START / FINISH LOCATION
FULL/HALF/5K START LINE: On Robert Grissom Parkway just South of the intersection of Grissom Parkway and Monticello Drive
FAMILY FUN RUN: At Pelican's Ballpark
FINISH LINE: Parking lot of TicketReturn.com Field at Pelicans Ballpark
BIB DELIVERY & PICK-UP
BIB MAILING:
All bibs will be delivered by March 4 to participants that purchased bib mailing before February 11. ONLY bibs will be delivered before race day. All participant's that had their bib mailed can pick up their swag at the Finish Line Festival.
PARKING & ROAD CLOSURES
Plenty of parking is available on Saturday, March 5 for participants of the Myrtle Beach Marathon, Half Marathon, and 5K at Broadway at the Beach (1325 Celebrity Cir, Myrtle Beach, SC 29577). There will be no shuttles this year.
You can view our road closure on this free downloadable PDF file here.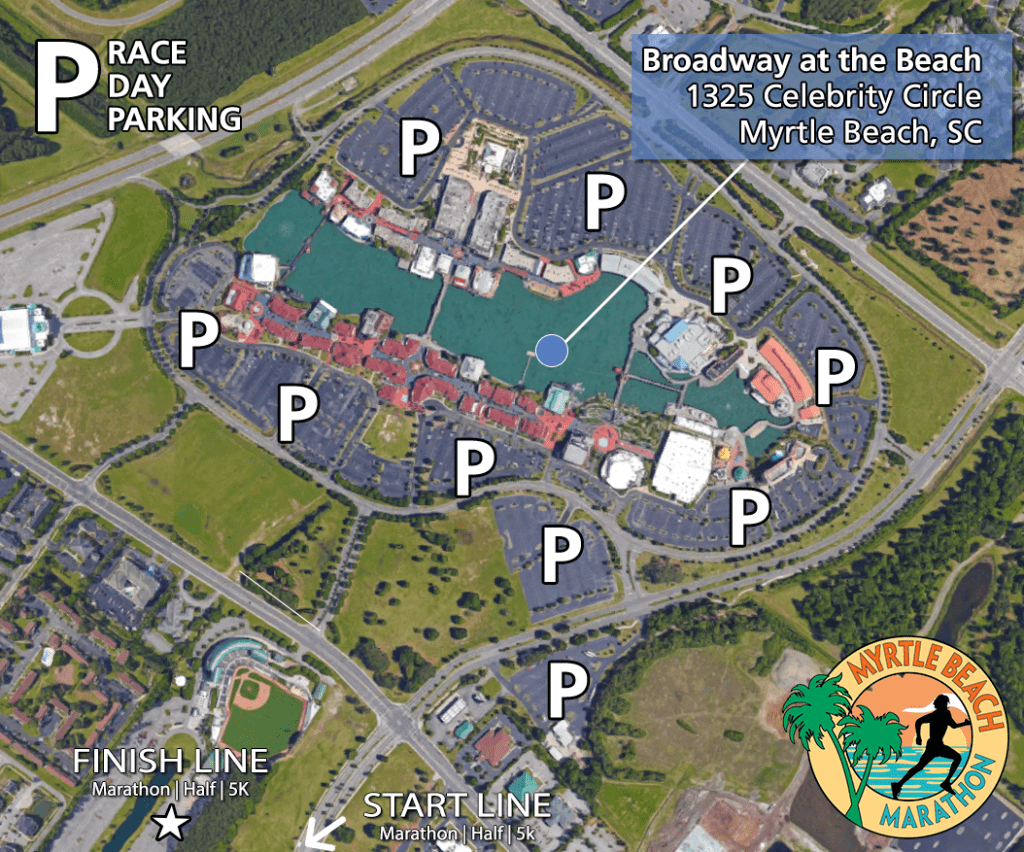 PARTICIPANT DETAILS
 The 2022 Participant Guide includes details on:
Packet Pick-Up

Race Day Parking and Timeline

Course Details

Finish Line Festival
HYDRATION, MEDICAL & RESTROOMS
Hydration Stations
We strongly encourage you to bring your own hydration packs. We will have water and Gatorade available at each hydration station. Hydration station locations for each distance are listed below:
Marathon: Miles 2, 4, 6, 8, 10, 11.5, 14, 16, 18.5, 21, 23, 25
Half Marathon:  Miles 2, 4, 6, 8, 10, 11.5
5k: 1.5
Gu will be offered at Mile 10 (Half and Full) and Mile 21 (Full Only).
Medical Stations
Grand Strand medical will be activating on site at the 2022 Myrtle Beach Marathon. There will be medical support at the start and finish line as well as on course at the following miles: 8, 11.5, 14, 18, & 23.
Restrooms
There will be Port-A-Potty's near the start line area for use in the morning. During your run, all hydration stations will have Port-O-Potty's available to use.
SPECTATOR INFORMATION
The finish line is always the best location to see your runner. You can also view your runner on course at the following locations:
Start line spectators will need to set up off Mr. Joe White Rd. Only runners will be able to access the start line from Robert Grissom & 10th Avenue.
Warbird Park on Farrow Pkwy (Full/Half)

1220 Moser Dr Parking in The Market Common (in front of 810 Billiards & Bowling) (Full/Half)
Pavilion Park (9th Ave and N. Ocean Blvd.) (all distances)
Plyler Park (N. Ocean Blvd./Mr. Joe White Av.) (Full/Half)
29th Av. N. and Ocean Blvd. (Full)
76th Av. N. and Kings Hwy. (Full)
Grand Dunes Blvd. (approach from 82nd Pkwy. and park on Cipriana) (Full)
Grissom Pkwy. from London St. to 21st Av. N. (Full)
The finish line area near TicketReturn.Com Stadium (all distances)
POST-RACE PARTY
This year join us for a Post-Race Party in the Park! That's right, all the Myrtle-Beach-Style-Fun will be taking place on TicketReturns.com field at Pelican's Ballpark. Celebrate your accomplishment with free food and drinks, including pizza, beer, water and live music. Here are some of the Post-Race highlights:
Check out Legacy Lane featuring our STARS who have run with us all 25 years
Stretch out post race on the outfield with PT Solutions
Grab your finisher tank, and any earned extra medals/awards
Grab a slice of Mellow Mushroom Pizza and one 16 oz ice cold beer on us! (21+)
Enjoy the tunes of Liquid Pleasure
Watch the live stream of your fellow finishers on the big screen
Sit in the stands with your friends and family as you tell them all about your accomplishment
AFTER RACE & AWARDS
RESULTS: All runners will receive a text message with a link to their individual results! There will be no results tents. We will also have results on our RESULTS & PHOTOS page.
AWARDS: Overall Awards will be presented to the top 3 Male and Female finishers in the Marathon, Half Marathon & 5K. ONLY overall winners will be announced on stage.
9:15 AM – 5k; 10:15 AM – Half Marathon; 11:15 AM – Marathon
All age group awards are based on chip time. Awards will be given to the top 3 male and female finishers listed below in each age group for the Marathon, Half Marathon & 5k. Age group awards may be claimed at the customer service tent in the Post Race Party in the Park. There will not be an awards ceremony for age group awards.
19 and under, 20-24, 25-29, 30-34, 35-39, 40-44, 45-49, 50-54, 55-59, 60-64, 65-69, 70-74, 75 & over