IMPORTANT INFORMATION
DEFERRALS: The deferral deadline was 10 days out from the event – Wednesday, February 26, 2020 AT 11:59 PM. Deferrals are no longer being accepted. NO exceptions will be made!
CHANGE DISTANCE: The last day to change your distance online was Saturday, February 29, 2020 AT 11:59 PM. If you would like to change your distance before the race, please visit the Customer Service table at the Health and Wellness Expo on Friday, March 6 between 10 AM and 8 PM.
RACE WEEK EMAILS: If you have not received any race week emails please update your preferences here.
RACE START TIMES
MARATHON: 7:00 AM
HALF MARATHON: 7:00 AM
5K: 8:00 AM
Family Fun Run: 1:00 PM
RACE START / FINISH LINE
Full & Half Marathon Start Location: Starts just South of the intersection of Grissom Parkway and 21st Ave. N, Myrtle Beach, SC.
Myrtle Beach 5k Start Location: Along the Boardwalk at the Myrtle Beach Pavilion (just south of Plyler Park)
Family Fun Run Start Location: Inside TicketReturn.com Field at Pelicans Ballpark Outfield
All distances will finish in the parking lot of TicketReturn.com Field at Pelicans Ballpark.
EXPO PACKET PICK-UP
EXPO PACKET PICK-UP:
All runner's will receive:
Bib and participant shirt
Free Power Card to play unlimited video games
20% off all food and non-alcoholic drinks
Access to vendor shopping
Please note: There will be NO race day packet pick-up! You MUST attend the expo to pick up your packet. If you are unable to attend the expo, please plan to have a friend or family member pick up your packet for you with a copy of your photo-ID.
PARTICIPANT DETAILS
 The 2020 Participant Guide includes details on:
Packet Pick-Up

Race Day Parking and Timeline

Course Details

Spectator Information

Post-Race Party and more!
PARKING & SHUTTLES
Plenty of parking is available on Saturday, March 7 for participants and spectators of the Myrtle Beach Marathon, Half Marathon, and 5K at Broadway at the Beach (1325 Celebrity Cir, Myrtle Beach, SC 29577). Shuttles will run continuously from Breakers Resort and Ocean Reef Resort to the start line beginning at 5AM.
All 5k runners will need to then take a shuttle from the Broadway at the Beach parking lot to the start line. The shuttle will pick up runners near the corner of John Q. Hammond and 21 Avenue N. All runners for the Full and Half marathon should plan to be in the start area by 6:30am to ensure time for security check at the entrance of the start chute. Please plan to arrive in plenty of time to park and make your way to the start area. If you need a handicap shuttle for race day please contact us prior to race day at info@mbmarathon.com.
There will be port-a-johns as you make your way from the parking lot to the start area as well as near the start line.
You can view our road closure on this free downloadable PDF file here.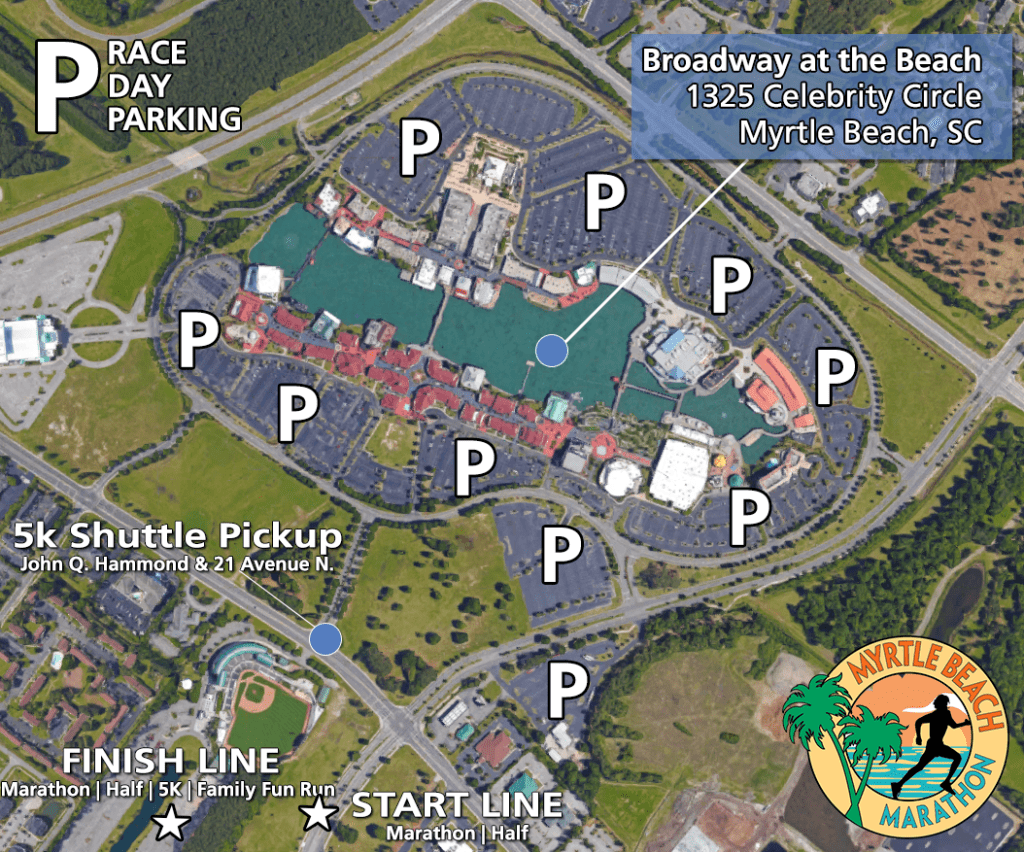 LIVE TRACKING
Download the Sporthive Live App for IOS or Android users: https://live.sporthive.com/event/8173-or-
search keywords "Sporthive Live, Sporthive" in app store
Open the Sporthive Live App
A Selector Page appears, click on Myrtle Beach Marathon listing
The 2020 Myrtle Beach Marathon app opens and is loaded
On return visits to the Sporthive Live App, Myrtle Beach Marathon app will load automatically, no search is required
SPECTATOR INFORMATION
The following are recommended spectator locations that you are able to access. To limit driving on race day we always recommend watching your runners at the start and finish line.
Start Line – Grissom Pkwy. at 21st Av. N.
Grand Park on Farrow Pkwy. in The Market Common
Howard Pkwy. in The Market Common (in front of Gordon Biersch)
Plyler Park (N. Ocean Blvd./Mr. Joe White Av.)
29th Av. N. and Ocean Blvd.
76th Av. N. and Kings Hwy.
Grand Dunes Blvd. (approach from 82nd Pkwy. and park on Cipriana)
Grissom Pkwy. from London St. to 21st Av. N.
The finish line area near TicketReturn.Com Stadium
Start Line – Grissom Pkwy. at 21st Av. N.
Grand Park on Farrow Pkwy. in The Market Common
Howard Pkwy. in The Market Common (in front of Gordon Biersch)
Plyler Park (N. Ocean Blvd./Mr. Joe White Av.)
The finish line area near TicketReturn.Com Stadium
Start Line – along the Boardwalk at the Myrtle Beach Pavilion (just south of Plyler Park)
Aid Station at mile 1.75 (between 8th and 9th Ave N)
Finish line area near TicketReturn.Com Stadium