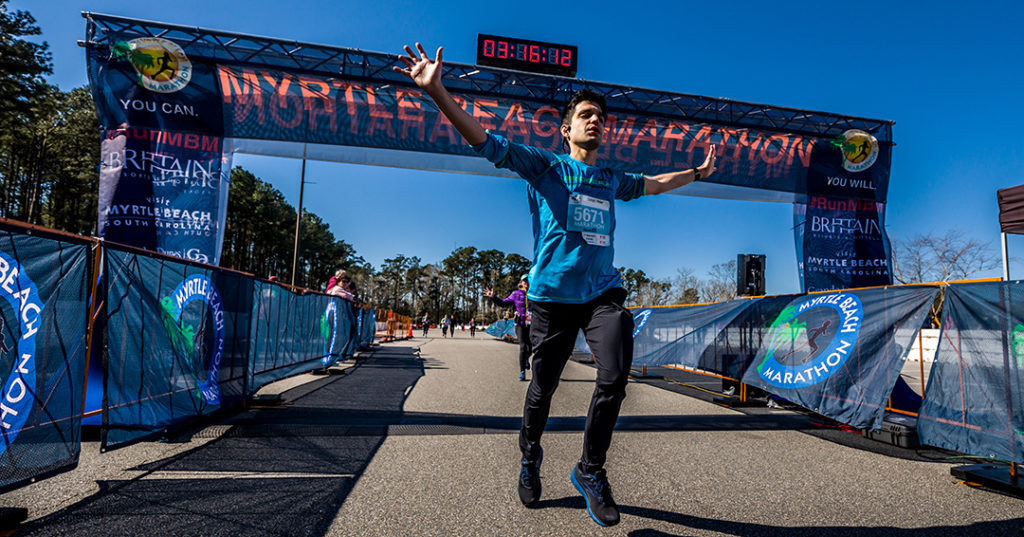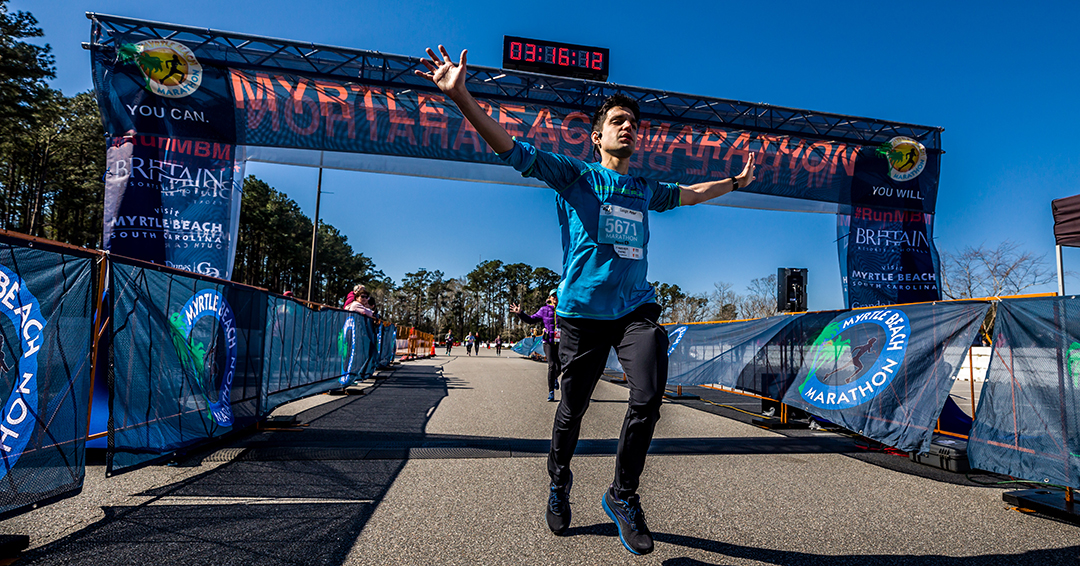 Following our most recent discussion with the City of Myrtle Beach and our medical partners at Grand Strand Medical Center, it has been determined that we will not have access to the medical resources required to safely produce the event on March 6th due to the strain placed on them from COVID-19.
Given that the safety of our runners, staff, volunteers and the Myrtle Beach community remains our top priority, we have made the decision to postpone the 2021 Myrtle Beach Marathon to May 1, 2021.
You may be wondering what the 2021 Myrtle Beach Marathon will look like in May – we're here to show you!
May 1 Event Overview
All Myrtle Beach Marathon registrations will be automatically transferred to the May 1 date. No action is required from participants at this time. 

All physical race participants (Marathon, Half, 5k, Myrtle Beach Marathon Double) will have their bibs mailed one week prior to race day.

Each distance will now have a virtual race option for anyone who is unable to attend the new date and would like to switch to virtual. 

The Virtual Race results window will still begin February 24 and will now extend to April 30.

All swag items will be received according to our current plan. Physical race participants will receive their swag at the finish line. Virtual-only participants will receive all of their swag in the mail a few weeks after race day.
What does this mean for me?
Looking forward to joining us on May 1? Your registration is active for May 1 and no action is needed. We'll see you at the start line!
Want to run your distance virtually? Click here to complete the change distance form to go virtual! 
While we are disappointed we won't see you on March 6, the finish line is still just ahead. To stay updated on the latest Myrtle Beach Coronavirus Advisory updates, visit the City of Myrtle Beach website here. We look forward to seeing you all at the start line on May 1!
A registration for the 2021 Myrtle Beach Marathon guarantees a race experience for you! S

hould the 2021 race be forced to cancel due to COVID-19, all of our 2021 registrants will be

awarded their entire registration fee back in the form of race credit or they'll have the option to transfer their registration to the virtual race. Race credit earned due to a COVID-19 cancellation will not expire and can be applied to any Capstone Race.

We're all hoping to produce the 2021 race. However, if you don't feel comfortable for whatever reason, we've waived our normal deferral fee.

If we are forced to switch our physical race to a  virtual race due to COVID-19 all participants that stay in the virtual race will receive the difference of their registration back in the form of race credit.

Our

"No Refund" and "No Transfer" policies

will still be in effect for this race. 
Mandatory Pre-Race COVID Questionnaire
All participants will be sent a pre-race COVID self-assessment to evaluate your symptoms prior to race day.
Hand Sanitizer/Washing Stations
There will be plenty of Hand Sanitizer and Washing Stations throughout the entire event. Along with these stations all of our staff members and volunteers will be provided with Personal Protective Equipment.
The Health & Wellness Expo
There will be no more rushing to the Health & Wellness Expo to get your bib and race gear. This year your race bib will be mailed to you prior to race day. You will also receive your participant shirt, tank and medal at the finish line.
Gear Check
To help reduce person to person contact we will not be hosting a gear check. There will be plenty of parking close to the start and finish line for you to store your gear – another line you get to avoid.
Masks in the Start and Finish Area
Runners will be required to wear masks at the start line before the race and upon crossing the finish line at the end of the race.
Staggered Start Times
We'll be implementing wave start times to encourage social distancing throughout the course. More details on wave starts will be available soon.
Finish Line – Swag Pick-Up & Finish Line Festival 
Once you cross the finish line you'll receive your medal, shirt and tank top. There will also be pre-packaged food at the finish line for you to grab and go.

Although we will not have our Finish Line Festival, we are working with local merchants for you to take the party elsewhere. More details to come closer to race day!
Family Fun Run – Virtually
Grab the family and get ready for a 1 mile run that everyone will enjoy because this year we will be hosting the Family Fun Run virtually! You'll get to run anywhere you'd like and anytime between February 24 – March 5. Once you complete your run you'll get to celebrate with the finisher tee and medal mailed right to your door.
For the first time in Myrtle Beach Marathon history we will be hosting a 10k distance – virtually! Run anytime between February 24 – April 30 to earn the exclusive Virtual 10k finisher medal and race shirt straight to your front door. You'll also receive a virtual race bib via email to wear during your virtual run. Register for the virtual race today!
Run Both the Virtual & Physical Race
Are you looking to challenge yourself a bit? Need some extra training? Or do you just want the exclusive Virtual 10k finisher medal?
Whatever your reason is we definitely recommend being a part of the first-ever Myrtle Beach Virtual 10k race! When you run both the physical race and the virtual race you'll not only be a part of a historic moment, but you'll also receive both bibs, your distance medal, shirt, finisher gift and the Virtual 10k medal at the physical race finish line. You're going to be running the week before anyways might as well get rewarded for it!
Change Your Current Distance to a Virtual Race
Unable to attend the new date, but want to run the Myrtle Beach Marathon race? Change your current distance to a virtual race. You'll get to run with the Myrtle Beach Marathon and receive the participant tee, finisher tank and your original distance medal! All your swag will be mailed to you following the conclusion of the physical race on May 1.