The Party is BACK for the 25th Anniversary Race!
After finishing the race all participants will get to enjoy a Party in the Park with pizza, beer and live music. Participants 21 years+ will receive ONE ice cold 16oz Bud Light when you show the beer ticket given to you at Packet Pick-Up. All bib mailers can get their beer ticket inside the Party in the Park area at our Bib Mailer Beer Ticket Tent near Customer Service.
PARTY IN THE PARK
This year join us for a Post-Race Party in the Park! That's right, all the Myrtle-Beach-Style-Fun will be taking place on TicketReturns.com field at Pelican's Ballpark. Celebrate your accomplishment with free food and drinks, including pizza, beer, water, and live music. Here are some of the Post-Race highlights:
Check out Legacy Lane featuring our STARS who have run with us all 25 years
Stretch out post race on the outfield with PT Solutions
Grab your finisher tank, and any earned extra medals/awards
Grab a slice of Mellow Mushroom Pizza and one 16 oz ice cold beer on us! (21+)
Enjoy the tunes of Liquid Pleasure
Watch the live stream of your fellow finishers on the big screen
Sit in the stands with your friends and family as you tell them all about your accomplishment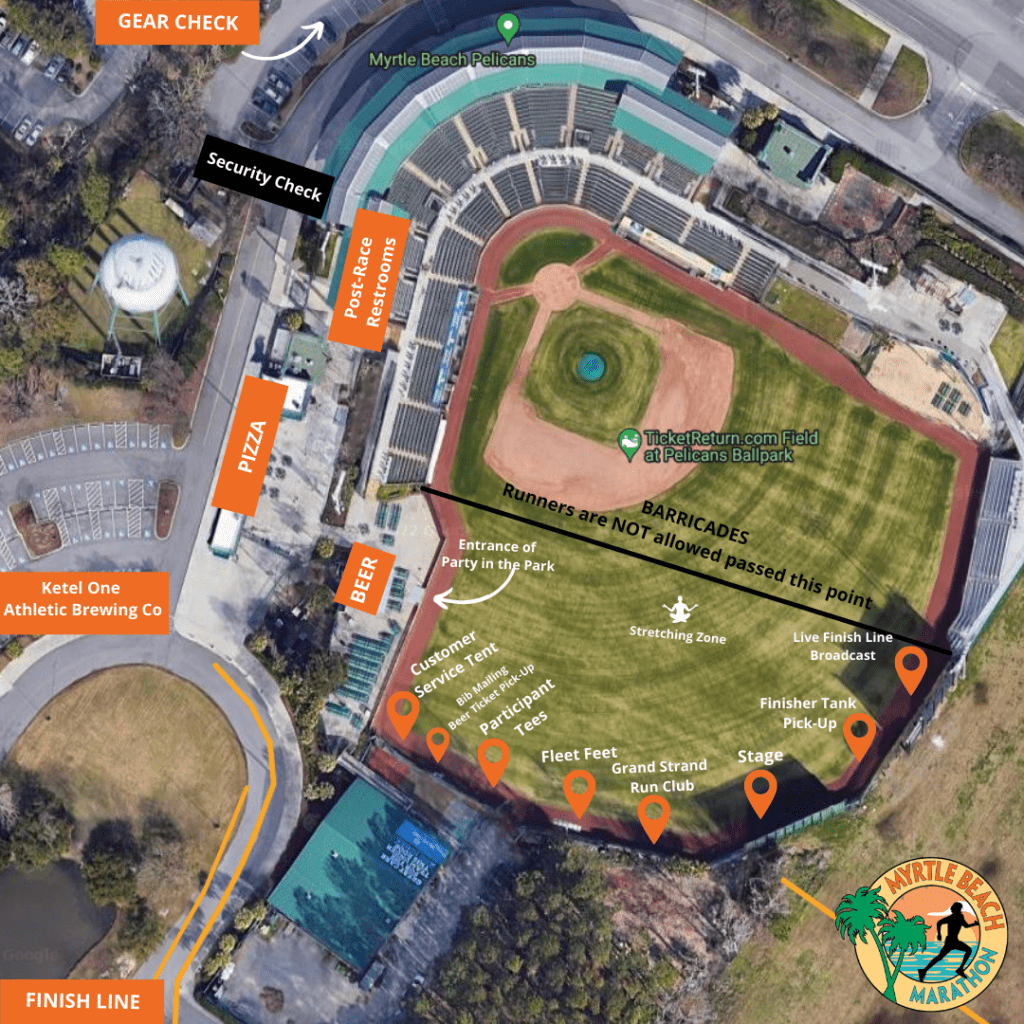 OVERALL & AGE GROUP AWARDS
We will not have an official RESULTS TENT at the Finish Line Festival. The results will be sent to you via text message following the race, so make sure to have your phone. You will also be able to view results online in real time.
Only OVERALL AWARDS will be announced on stage for the top three overall finishers male and female in the Marathon, Half Marathon & 5k. Each distance will be announced at a specific time, see below:
AGE GROUP AWARDS will be available for pick up at the CUSTOMER SERVICE TENT following the overall award announcement. Age group awards will be given to the top three male and female finishers in the Marathon, Half Marathon and 5k in the following age categories:
19 and under, 20-24, 25-29, 30-34, 35-39, 40-44, 45-49, 50-54, 55-59, 60-64, 65-69, 70-74, 75 & over
**Please note: Awards will not be mailed following the race. You MUST be present to receive your award. Before you leave the race make sure you check your official results ON YOUR PHONE to see if you qualify for an award.
RACE SWAG
All participants that did not attend Packet Pick-Up will receive their swag during the Party In The Park, see map above. You'll receive your 2022 Finisher Medal (finish line), Participant Tee and Finisher Tank. Plus, anyone who qualifies for the Bless Your Heart or Virtual 10k medal will be able to pick those up at the Customer Service Tent. All runners are responsible for getting their own race swag.
Any shirt exchanges can be made during the Post-Race Party in the Park. All exchanges are based on a first come first serve basis.