Alaska Airlines Bay to Breakers is a race built by the people. Since 1912, Over 2 million costumed runners, walkers and centipedes have completed the iconic 12K journey from the San Francisco Bay to the breakers on Ocean Beach.
REGISTRATION OPTIONS
REGISTRATION FOR THE 2019 RACE IS NOW OPEN WITH THE LIMITED TIME PRICE OF $74.99! 
Adults: Ages 15 & Older
Child: Ages 3 – 14 (Children 2 and under are free), child registrants receive a 50% discount off the adult price
Centipedes: Groups of 13 or more runners linked together, centipede groups receive a $5 discount for each registrant, more information here.
VIP: Receive exclusive access and additional runners perks. Details on VIP benefits will be coming soon.
Virtual Runner: Can't make it to the race this year, but still want all the cool SWAG? Register as a virtual runner and have your bib, shirt and medal mailed to you after the race.
Alaska Airlines Bay to Breakers is proud to offer an exclusive discount to active military, veterans, first responders and their family members.  Special discount codes are distributed through ID.me. Follow the links below to redeem your discount code.

RUNNER PERKS
Official Runners Tech T
Finisher Medal
Recovery Food & Beverages
Course Entertainment
Finish Line Festival Access
breakers bonus
In 2018, we introduced the Breakers Bonus, an all new way to experience race day. With the Bonus, runners can now increase their run distance from a 12k to 15k!
Bonus runners will receive:
An extra 3k to your run
An exclusive Bonus medal (in addition to the standard Finisher Medal)
A drink ticket good for one beer at the Finish Line Festival beer garden
Bonus entertainment in the final 3k to motivate you to the finish line
Find out more information on the Breakers Bonus HERE.
VIP BENEFITS
Includes regular adult registration perks
An expedited check-in at the Orig3n Health & Wellness Expo
Pre-Race meal at the Start Line VIP Area
Gear Check to get your stuff from Start Line to the Finish
Post-Race meal (with complimentary adult beverages for those 21+) at the Finish Line Festival
Post-Race Massage
Commemorative 2019 Alaska Airlines Bay to Breakers item
2019 Designs
Designs for the 108th Alaska Airlines Bay to Breakers can be seen below!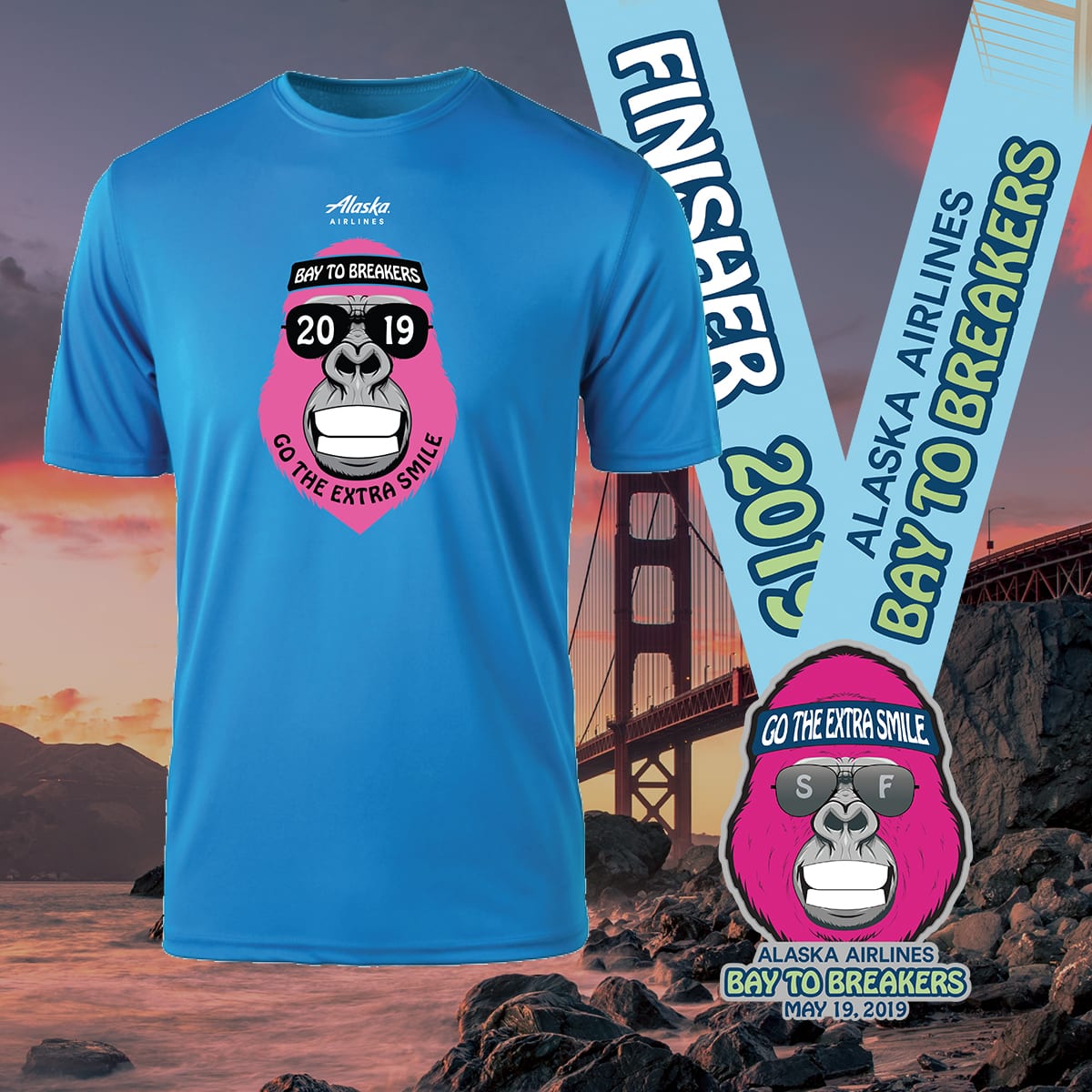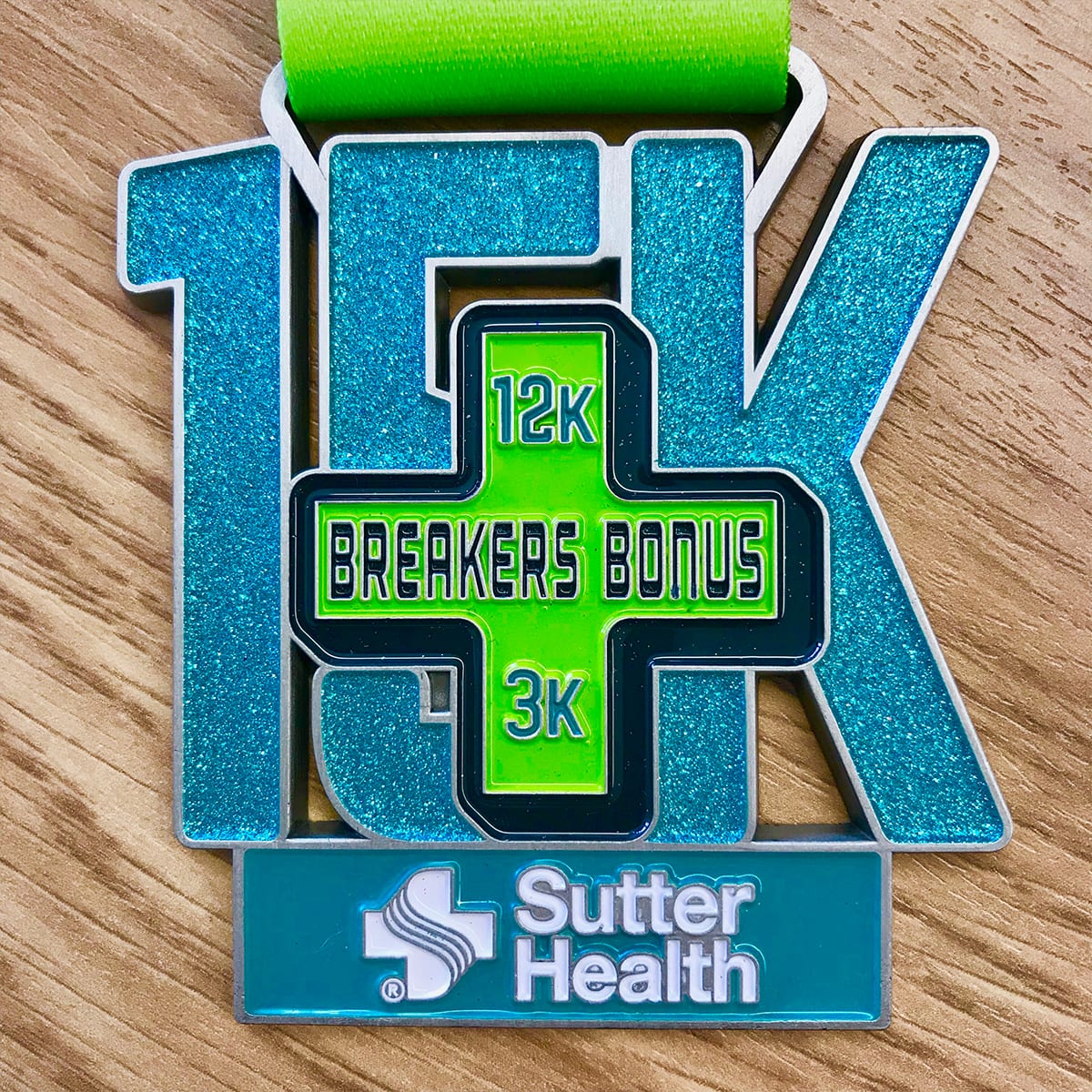 THE ORIG3N HEALTH & WELLNESS EXPO
May 17 (11 AM – 7 PM) & May 18 (9 AM – 5 PM),
2019 Location:
Pier 35
1454 The Embarcadero
San Francisco, CA 94133
More information here.
THE RACE
May 19, 2019
START TIME
The 108th Alaska Airlines Bay to Breakers will start at 8am.
THE START
Main St. & Howard St.
San Francisco, CA 94105
THE FINISH LINE FESTIVAL
Ocean Beach Parking Lot
Great Highway [B/W JFK Dr. & Lincoln Way]
San Francisco, CA 94122
More information here.
RACE PACKET PICK-UP
In-Person
Participants may pick up their race packets at the Orig3n Health & Wellness Expo taking place Friday, May 17 and Saturday, May 18. Please check out more information regarding the Expo here. If a participant cannot attend the Expo, someone else may pick up their packet as long as they have a copy of the participant's ID and order confirmation number.
Mail
The deadline to purchase the mail option for your registration was April 21, 2019. All runner bibs from here on out must be picked up at the Orig3n Health & Wellness Expo.
Race Packet Contains
Runner Bib with Timing Tag
Race Instruction Guide
Partner Premiums & Collateral
ORDER ADDITIONS (Upgrade to VIP or add Mail Packet, Breakers bonus, race day Transportation)
Participants who have already registered, but would like upgrade their existing registration to VIP or add the mail option, Breakers Bonus, or race day transportation will need to follow the below instructions:
Visit MyEvents
Log-in with your ACTIVE Passport (this will be the email and account you used to purchase your registration)
Select Add Extras button in your 2019 Alaska Airlines Bay to Breakers event registration card
Choose the particular add-on item
Checkout
Relax, enjoy, and see you May 19th!
OFFICIAL RUNNERS' TECH T DISTRIBUTION
Participants who pick up their race packet at the Orig3n Health & Wellness Expo will also receive their Official Runners' Tech T at that time. Participants who choose to have their race packet mailed can pick up their Runners' T at the Finish Line Festival on race day or may come to the Expo as well.
REFUND POLICY
Alaska Airlines Bay to Breakers reserves the right to reject any entry and adheres to the standard running industry policy: All entry fees are non-refundable and non-transferable. The entry fee for this year's event will NOT transfer to next year's event, without exception.