This is a reflection of a past event. All information is subject to change for the 2022 race.
Need help getting to the race? Check-out the race-day transportation options below.
Private Chartered Buses
You can relax in top-of-the-line vehicles to comfortably get you around on race day shuttles for complete round-trip service from one of their three pick up locations around the Bay Area or utilize their express service back to the starting area or BART from the Finish Line Festival.
Shuttle Options:
North Bay Shuttle: The shuttle will pickup from the Mill Valley Park & Ride lot (Manzanita Parking Lot, Shoreline Highway) and take you to the Start Line. After the race the shuttle will depart from the Finish Line Festival and return to the Mill Valley Park & Ride lot.
South Bay Shuttle: The shuttle will pickup from the Millbrae Park & Ride lot (BART Station at Millbrae Avenue) and take you to the Start Line. After the race the shuttle will depart from the Finish Line Festival at and return to the Millbrae Park & Ride lot.  *This is the best option for CALTRAIN Riders
East Bay Shuttle: The shuttle will pickup from the Emeryville Park & Ride lot (Emeryville Amtrak Station) and take you to the Start Line. After the race the shuttle will depart from the Finish Line Festival at and return to the Emeryville Park & Ride lot.
ALL ROUND TRIP SHUTTLES WILL BE DEPARTING THEIR LOCATIONS AT 6:15AM AND RETURN FROM THE FINISH STARTING AT 11:30 AM. 
Downtown Express Shuttle: One-way shuttle from the Finish Line Festival to the Start Line.
Express BART Shuttle: One way shuttle from Finish Line Festival to Embarcadero BART Station.
Ride MUNI to the Bay to Breakers!
Buy Tickets in Advance
MuniMobile the official SFMTA mobile ticketing app, is the easiest way buy your tickets for any Muni services instantly before the race. Available for iPhone or Android, tickets can be purchased through a credit/debit card or PayPal account for individual or multiple riders on one smartphone. Skip the lines and buy tickets ahead of time or on the go, then activate when you are ready to ride. With MuniMobile, your phone is your fare.
Customers may also use a preloaded Clipper Card, or purchase tickets at Muni Metro Embarcadero station, the nearest stop to the race starting line.
Muni passes are also available for purchase on the Bay to Breakers registration page. These passes are valid all day on race day on Muni services (excluding cable car).  Muni passes may also be purchased at the Health & Wellness Expo on May 17 and 18.
Get real-time transit information with NextBus.
The Start
Main St. & Howard St.
San Francisco, CA CA 94105
These routes will get you to or close to Main Street & Howard Street: J, K, L, M, N, T, 2, 9R, 14R, 5/5R, 7, 25, 30X, 38/38R, 41, 81X, 82X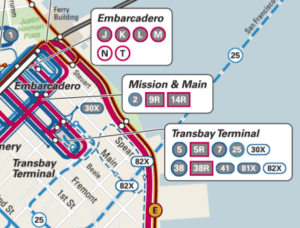 Muni Service After the Race
After the race, Muni buses will be staged at the finish line area (at Fulton Street between 47th and 45th Avenues & at Judah and La Playa streets) to provide special service back downtown. Fare must be paid before boarding, or MuniMobile tickets activated as you board.
The race will impact regular Muni service all day Sunday, September 20. Please visit the SFMTA website for full service alert, re-routes, traffic and delay details. For personalized trip assistance, please call San Francisco 311 Customer Service Center before the race day.
See further service announcements regarding Muni HERE.
For help with Muni service before or after the race, look for SFMTA staff wearing bright orange vests.
Receiving your Transportation Pass
Expo: If you are picking up your race packet in-person at the Health & Wellness Expo on either September 18 or 19, you will receive your transportation pass at that time.
Mail: If your race packet is being mailed you will receive your transportation pass with your race packet.
Street Closure Schedule
A large number of municipal streets and facilities will be closed before, during and after the race. View the entire list of street and facility closures HERE.
NORTH/SOUTH TRAFFIC SHOULD USE EMBARCADERO OR 19TH AVE. THROUGH GOLDEN GATE PARK DURING RACE TIMES AS THEY ARE THE ONLY AVAILABLE CROSSOVER ROUTES.
Spothero – Guaranteed Parking
We recommend booking convenient and affordable parking in advance through SpotHero, the nation's leading parking reservation app.
To reserve your parking spot, visit the Bay to Breakers SpotHero Parking Page and book a spot with rates up to 50% off drive-up.
New to SpotHero? Download the SpotHero iPhone | Android app.

BART
BART customers will be able to get to the world famous Bay to Breakers race in San Francisco on Sunday, September 20, 2020, because we'll open early and run longer trains. All BART stations will open early with service starting at approximately 6am Sunday so racers can get to the race well before the race begins at 8am. Trains running before 8am will run at 20 to 30-minute intervals.
The schedule will be available at the end of August via our online trip planner at bart.gov or on our Official BART App.
Embarcadero & Montgomery Street Both Convenient 
Because the Bay to Breakers race attracts thousands of runners and spectators, BART encourages riders originating from Peninsula and San Francisco stations to get off at Montgomery Street Station. Riders coming from the East Bay should use the Embarcadero Station. Both stations are just a short distance from Howard and Spear Streets, the starting point of the race.
Tips for Runners
Runners can save time and trouble by getting a Clipper® Card in advance of race day to pay your fare. Be sure to load enough cash on the card to pay for a round trip fare. Clipper Cards are available at transit ticket offices, through ticket vending machines in SFMTA stations and at most Walgreens and other retail locations. BART Ticket Vending Machines will allow you to add cash value to your Clipper Card, but do not dispense the cards.
Wet or damaged BART tickets will not work in fare gates, so runners who keep a round-trip ticket in their pockets while running seven miles may be disappointed when they try to get home. BART suggests that runners who don't have a Clipper Card should buy two one-way tickets: one ticket before heading to the race and the other before catching the train home instead of buying a single round-trip ticket. Remember to add an extra $.50 to each ticket.
CALTRAIN
Take Caltrain on race day! There will be four extra pre-race trains to San Francisco and one local train after the race to San Jose. Click HERE for complete train schedule. Caltrain will also provide extra post-event capacity.
Avoid the long ticket lines in the morning! Caltrain heavily encourages you to pre-purchase a Bay to Breakers Day Pass ticket by downloading the Caltrain Mobile Ticket App. Pre-sale Bay to Breakers tickets will NOT be sold through the station ticket machines and only available through the Caltrain Mobile Ticketing App. Expect long ticket machine lines the morning of the race if you do not pre-purchase the B2B Ticket using the app. NOTE: Be sure you pre-purchase the B2B Ticket and not a regular Day Pass unless you plan on purchasing the Day Pass the morning of the race.
Daily Parking must be purchased through the ticket machine. Staff will be at San Jose Diridon and Palo Alto early to assist customers.
Alcohol is prohibited on the special trains dedicated for Bay to Breakers.
NOTE: Northbound Trains 641, 645 and 647 departing Palo Alto at 6:10 a.m., 6:26 a.m., and 6:52 a.m. will depart from southbound track (opposite platform).
Get more information on Caltrain service HERE.
Bike Parking
Monitored bicycle parking will be available at the Finish Line Festival at Ocean Beach in the North Balboa Parking lot.
Golden Gate Larkspur Ferry
The Golden Gate Larkspur Ferry's added early morning ferry service starting at 6:45am and arrives just a few blocks from the starting line. For information on timing, departure/arrival and purchasing tickets CLICK HERE.
Amtrak Service
The bus stops in San Francisco are located where civic events often disrupt Amtrak service. The following disruption will occur on the date indicated.
Stops affected: SFM (Moscone Convention Center), SFS (Shopping Center), SFF (Financial District) and SFW (Fisherman's Wharf) – no service
Eastbound buses that will not stop: 6612, 6670, 5006, 6674, 6614, 6678, 6011, 3402
Westbound buses that will not stop: 6673, 5011, 6677, 6611, 6679, 3377, 3311, 3379
Alternative: Walk to the Transbay Temporary Terminal (during the race, crossovers are at 7th St. and at The Embarcadero, nothing in between), or take Muni Metro underground streetcar service (any) to Embarcadero station then walk south on The Embarcadero to Folsom St. then west to Transbay, or take Muni Metro N or T cars to Folsom station then walk west to Transbay. The race essentially cuts the city in half and while the runners are passing by it is difficult to cross the race course. Most runners should be out of the downtown area by 9:00 – 9:30 am. Driving is not recommended as there will be extreme roadway congestion.
Stops not affected: SFP (Caltrain) and SFC (Transbay Temporary Terminal) – normal service
Taking an Amtrak train into San Francisco?  Enter your station in the search box and then update the calendar to fit your trip. Then simply compare parking options, reserve, and use your confirmation to access the facility. If you need assistance booking overnight parking or have questions please call (800) 232-6415.