RUNNING ON WEIRD
Bay to Breakers, San Francisco's celebrated 12k race, returns on September 20, 2020! If you're new here, you should know we do things a little differently. Throw on a costume (the more bizarre, the better), take in the atmosphere (you'll have tens of thousands of eyeballs watching), and prepare for a running experience like no other.
They Really Like Us!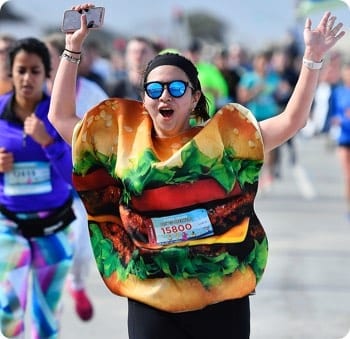 "I enjoyed the vibe, the energy, the enthusiasm. This was my 33rd Bay to Breakers and I always enjoy the energy from this crowd!"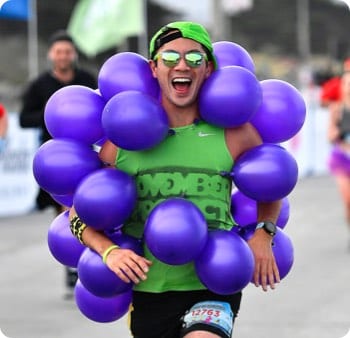 "The best thing about the Bay to Breakers race is the fun and joyfulness of it all, and on such a beautiful course! That ocean view at the end is AMAZING!"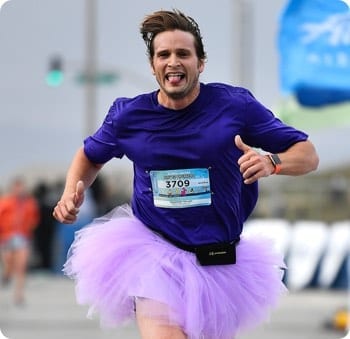 "I enjoyed being with participants of all levels and the overall positive, jovial and fun atmosphere. Nice mix of runners and walkers, supportive of each other. Fun!"
prev
next
It's So Pretty! (And then Cool. And Then Pretty Again.)
Bay to Breakers starts in the Embarcadero neighborhood by the San Francisco Bay, and takes you through nine of the city's most notable neighborhoods—all the way to the Great Highway, where the breakers crash into Ocean Beach.
Among other sights, you'll race through Panhandle Park at the northern boundary of the Haight Ashbury—the birthplace of the Deadhead—and cut through Golden Gate Park. (Pro tip: watch out for the bison .)
It's All Historic!
This race has been around the block a few times: Runners, walkers, joggers, and partiers have participated in Bay to Breakers for over a century. While no racer has had the distinction of running every year since its inception—remember, we said "over a century"—the race has welcomed runners from ages 1 to 99 . (Spoiler: The baby did not win.)
It's Fun!
Bay to Breakers is a celebration of life, laughter, and the personality of San Francisco. Join the pink-ape mascot Ape Hashbury, bumblebees, brides, unicorns, naked runners wearing running watches, and probably at least one Thanos in this world-renowned race-slash-party.
It's Relaxed! (Until It Isn't)
Enjoy a flat course through some of San Francisco's most iconic neighborhoods—until you reach Hayes Street Hill at the two-mile mark. This monster hill rises over 200 feet above sea level, with a steepest grade of 11.15%. (Runner's World named it one of its top "Sublime Climbs," so it can't be all bad, right?)
You'll Be, Like, Famous!
Love having people gaze upon you in adoration? 80,000 spectators, volunteers, and staff line the race course each year, adding up to 160,000 eyeballs on your form, your costume, and your incredible speed.