Bay to Breakers originally started with the purpose of unifying a recovering San Francisco community after a devastating event. For the past 109 years, the Bay to Breakers race has done just that. Now in 2020, though we'll meet virtually, we still want the athleticism, the funk, the wild, the FUN and the spirit of this race to shine and keep the tradition alive.
Whether you run, walk, or dance your way to the finish, we want to see your 12K journey. So dust off that old Halloween costume or use this time to make a new one and get ready to run! We'll be accepting your results anytime between September 20 – October 2, 2020.
Check out what you can expect from the Bay to Breakers Virtual Race below:
WHEN
Anytime from Sept. 20 – Oct. 2, 2020
WHERE
Anywhere – Make your own course to really shock your neighbors!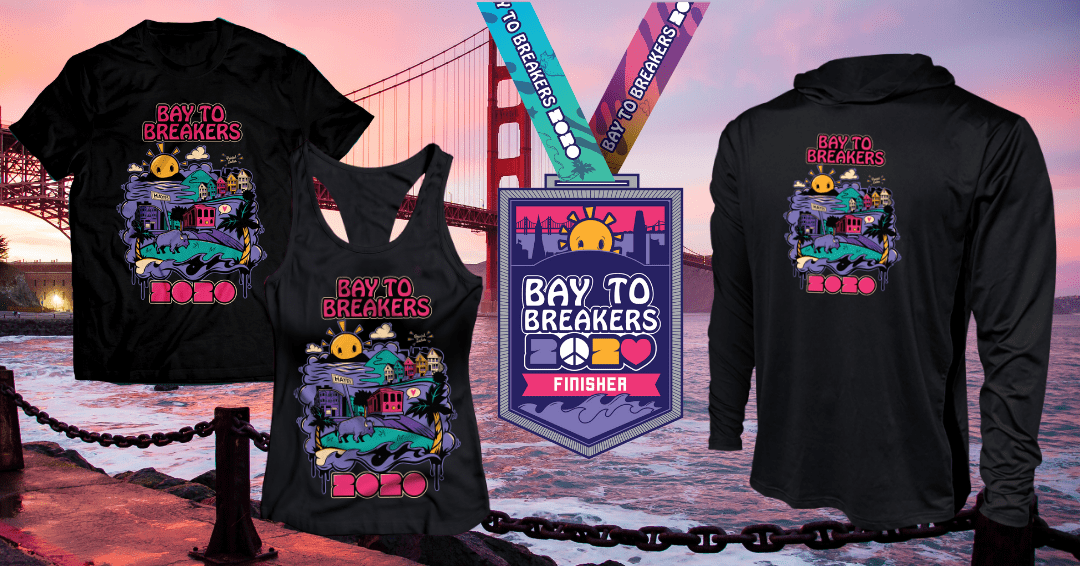 GET THE SWAG
You need some swag in your life! All participants will receive a race shirt or tank, medal, and bib – plus an exclusive Bay to Breakers hoodie! All of the swag will be shipped right to your front door and will arrive by October 16, 2020.
RUN WEIRD
Grab your costume and join us for 12 Days of running weird! Pick one day to coordinate your costume or run all 12 – the choice is yours. Share your virtual run with us on social media using the hashtag #BayToBreakers and we'll share our favorites!